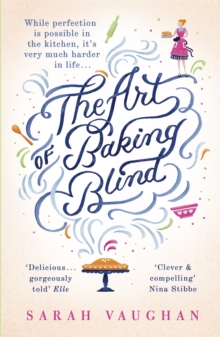 The Art of Baking Blind
Paperback
Description
'Clever and compelling. I loved this!' Nina Stibbe, bestselling author of Love, NinaThere are many reasons to bake: to feed; to create; to impress; to nourish; to define ourselves; and, sometimes, it has to be said, to perfect.
But often we bake to fill a hunger that would be better filled by a simple gesture from a dear one.
We bake to love and be loved.In 1966, Kathleen Eaden, cookery writer and wife of a supermarket magnate, published The Art of Baking, her guide to nurturing a family by creating the most exquisite pastries, biscuits and cakes.Now, five amateur bakers are competing to become the New Mrs Eaden.
There's Jenny, facing an empty nest now her family has flown; Claire, who has sacrificed her dreams for her daughter; Mike, trying to parent his two kids after his wife's death; Vicki, who has dropped everything to be at home with her baby boy; and Karen, perfect Karen, who knows what it's like to have nothing and is determined her facade shouldn't slip.As unlikely alliances are forged and secrets rise to the surface, making the choicest choux bun seems the least of the contestants' problems. For they will learn - as Mrs Eaden did before them - that while perfection is possible in the kitchen, it's very much harder in life.
Information
Format: Paperback
Pages: 432 pages
Publisher: Hodder & Stoughton General Division
Publication Date: 13/08/2015
ISBN: 9781444792256
Other Formats
Hardback from £11.79
EPUB from £0.99
CD-Audio from £17.95
Free Home Delivery
on all orders
Pick up orders
from local bookshops
Reviews
Showing 1 - 1 of 1 reviews.
Review by shelleyraec
27/08/2015
The Art of Baking Blind is pleasant debut novel for British journalist Sarah Vaughan.In 1966, Kathleen Eaden, cookery writer and wife of a supermarket magnate, published 'The Art of Baking', her guide to nurturing a family by creating the most exquisite pastries, biscuits and cakes. A year after her death, a competition is being held to find the 'New Mrs Eaden', where the winner will receive a £50,000 contract to advise the supermarket on its selection of baked products, take the lead in an advertising campaign, and write a monthly magazine column. Four women and one man have been chosen to compete, striving for the perfection in the kitchen, that has eluded them in their real lives.The novel unfolds through the viewpoints of Vaughan's four main female characters intertwined with Kathleen Eaden's story, and excerpts from 'The Art of Baking'.Vicki, mother to three year old Alfie, is finding being a stay at home mother difficult and is excited by the challenge of the competition. Jenny has given all of herself to her family, but with her daughters having flown the nest and her husband disinterested, baking is all she has left. Karen strives for perfection in all things and views the competition as a way to prove herself. Claire is a hard working single mother who hopes that winning the contest will give her and her daughter a chance to better their lives.While the contestants strive to turn out perfect pastries and pies every weekend, Vaughan slowly reveals the challenges each woman is facing at home. Jenny, for example, is almost certain her husband is having an affair, while Claire's daughter's father makes an unexpected return. There is depth here, though I think perhaps Vaughan spreads herself a little too thin and some of the characters, and their stories, are truncated. Karen's story finishes quite abruptly, and Mike, the fifth contestant, is little more than a token.The competition to become the next Mrs Eaden bears similarities to the television show, The Great British Bake Off, though this contest is not televised and there is no weekly elimination. Sadly there are no recipes included in the book, but the descriptions of the contestants offerings, ranging from Chelsea Buns to a Springtime Quiche, are ambrosial and I couldn't resist baking a simple after school treat for my children when I'd finished the last page.A story about family, relationships, and the art of baking, I enjoyed this engaging novel.