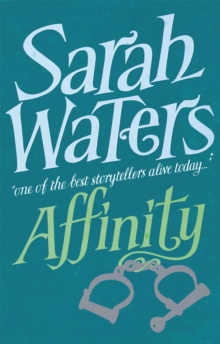 Description
Set in and around the women's prison at Milbank in the 1870's , AFFINITY is an eerie and utterly compelling ghost story, a complex and intriguing literary mystery and a poignant love story with an unexpected twist in the tale.
Following the death of her father, Margaret Prior has decided to pursue some 'good work' with the lady criminals of one of London's most notorious gaols.
Surrounded by prisoners, murderers and common thieves, Margaret feels herself drawn to one of the prisons more unlikely inmates - the imprisoned spiritualist - Selina Dawes.
Sympathetic to the plight of this innocent-seeming girl, Margaret sees herself dispensing guidance and perhaps friendship on her visits, little expecting to find herself dabbling in a twilight world of seances, shadows, unruly spirits and unseemly passions.
Information
Format: Paperback
Pages: 368 pages
Publisher: Little, Brown Book Group
Publication Date: 02/03/2000
ISBN: 9781860496929
Free Home Delivery
on all orders
Pick up orders
from local bookshops
Reviews
Showing 1 - 5 of 13 reviews.
Previous | Next
Review by im-imagined
16/06/2015
Absolutely engrossing. I read this in a day. Its unlike the two of her other books I have read (Tipping the Velvet and Fingersmith) and the ending...wow...what an ending. My least favourite of her work sans the Night Watch, which I haven't read yet, but still excellent in its own way.
Review by whirled
16/06/2015
Sarah Waters is one of my favourite authors, but I found this book very hard to finish. (I managed it, after three or four previous attempts.) There are some clever twists, but not the level of intricate detail Waters achieved with <i>Fingersmith</i>. There are hints at romance, but none of the passion or bawdiness of <i>Tipping the Velvet</i>. A sense of mood and atmosphere are established, yet not as effectively as in <i>The Little Stranger</i>. But the overarching problem, as a modern reader, is the difficulty of suspending disbelief when faced with 19th century relics such as spiritualism and séances. A disappointing novel, when set against Waters' high standards.
Review by LadyN
16/06/2015
Waters didn't let herself down with this one. Having very much enjoyed Fingersmith and Tipping the Velvet, this one easily lived up to them. The atmosphere was excecllently crafted, as were the charaters. I'd definitely recommend to fans of period drama.
Review by allison.sivak
16/06/2015
I really enjoyed this novel, for its detail of the lives of women and women in prison during the late 1800s, as well as for its unexpected plot twists. Margaret Prior, an unmarried 30-year old upper class woman, is recommended to perform the "charity work" of visiting women prisoners at Millbank Prison after her suicide attempt. She becomes drawn to prisoner Selina Dawes, who has been convicted of causing the death of her benefactress during a spiritualist session. As Margaret becomes more and more obsessed with Selina, Waters shows how isolation and connection are experienced by the two characters in very different ways. Having just started working with a women's prison project, I was struck by how prison rules haven't changed over the last century. A riveting, fun, and fast-paced read, with much interesting historical detail.
Review by priamel
16/06/2015
The beginning was interesting, but I've just given up at page 227...