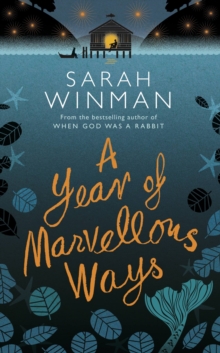 A Year of Marvellous Ways
Hardback
Description
A YEAR OF MARVELLOUS WAYS is the unforgettable and completely captivating new novel from Sarah Winman, author of the international bestseller WHEN GOD WAS A RABBIT. Marvellous Ways is eighty-nine years old and has lived alone in a remote Cornish creek for nearly all her life.
Lately she's taken to spending her days sitting on a mooring stone by the river with a telescope.
She's waiting for something - she's not sure what, but she'll know it when she sees it.
Drake is a young soldier left reeling by the Second World War.
When his promise to fulfil a dying man's last wish sees him wash up in Marvellous' creek, broken in body and spirit, the old woman comes to his aid.
A YEAR OF MARVELLOUS WAYS is a glorious, life-affirming story about the magic in everyday life and the pull of the sea, the healing powers of storytelling and sloe gin, love and death and how we carry on when grief comes snapping at our heels.
Information
Format: Hardback
Pages: 320 pages
Publisher: Headline Publishing Group
Publication Date: 18/06/2015
ISBN: 9780755390915
Other Formats
Paperback from £7.05
EPUB from £4.99
Free Home Delivery
on all orders
Pick up orders
from local bookshops
Reviews
Showing 1 - 2 of 2 reviews.
Review by nicx27
27/08/2015
I wanted to read this book because I enjoyed When God Was a Rabbit but A Year of Marvellous Ways didn't quite hit the spot for me. It's very whimsical with a flowery writing style and when I started reading it I wasn't sure I would finish it but actually I did get quite into it. I would definitely say it's a book that needs to be read in large chunks. A few pages here and there would not have worked.Marvellous Ways is an 89 year old woman who lives in a gypsy caravan by a creek in Cornwall. She obviously has some sort of mystical powers. One day Drake, a young soldier who had a bad experience in the Second World War turns up and his time with Marvellous starts to heal him. I enjoyed their friendship and how each brought something to the other. Despite the style, I did quite enjoy reading this book but I think all that will stay with me is the overly descriptive prose, rather than the storyline or the characters. It will appeal to those who enjoy a fanciful feeling to their books.
Review by natsalvo
27/08/2015
Sarah Winman's A Year of Marvellous Ways has a lot in common with Kazuo Ishiguro's The Buried Giant. Both novels are beautifully written and blend fantasy with a kind of understated realism. And in Winman's case, there may be some nice writing to be savoured but it is also a frustrating read overall.Marvellous Ways is an old woman who lives in Cornwall and is waiting for something to happen. That something is a chance meeting with Francis Drake, a returning solider from the Second World War who is determined to fulfil a dying man's wish. The two form an unlikely friendship and Marvellous recognises Drake's sadness. She sets out to try and lift his depression and reignite his passion for life by telling him stories about her three great loves.There are other characters in this story but this is the crux of it all. In this novel, Winman uses a similar style to her debut, When God Was A Rabbit but there is very little going on. The story is a long and slow character study about friendship, loss and grief.Winman's prose is lovely and she treats her characters with a sweet and gentle hand. But the lack of quotation speech marks, difficult character names and the non-linear plot where fragments of the tale are revealed are absolutely frustrating. This means we are introduced to one important character during the home stretch and there are other aspects of the book that seem needlessly added or tacked on.Sarah Winman is an excellent writer who would make an amazing poet but as it stands A Year of Marvellous Ways seems like a novel filled with lost promise. A far meatier story would have been more exciting than this floating and dreamy, experimental one. In short, this is a sentimental tale boasting lots of lush writing, but having to navigate the quirky world of Marvellous and her strange ways is a slog of a journey.