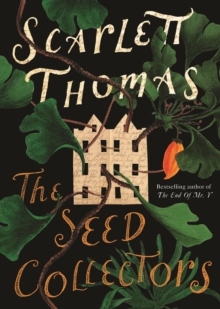 The Seed Collectors
Hardback
Description
"I have no idea why everyone thinks nature is so benign and glorious and wonderful.
All nature is trying to do is kill us as efficiently as possible." Great Aunt Oleander is dead.
To each of her nearest and dearest she has left a seed pod.
The seed pods might be deadly, but then again they might also contain the secret of enlightenment. Not that anyone has much time for enlightenment. Fleur, left behind at the crumbling Namaste House, must step into Oleander's role as guru to lost and lonely celebrities.
Bryony wants to lose the weight she put on after her botanist parents disappeared, but can't stop drinking. And Charlie struggles to make sense of his life after losing the one woman he could truly love. A complex and fiercely contemporary tale of inheritance, enlightenment, life, death, desire and family trees, The Seed Collectors is the most important novel yet from one of the world's most daring and brilliant writers.
As Henry James said of George Eliot's Middlemarch, The Seed Collectors is a 'treasurehouse of detail' revealing all that it means to be connected, to be part of a society, to be part of the universe and to be human.
Information
Format: Hardback
Pages: 384 pages
Publisher: Canongate Books Ltd
Publication Date: 02/07/2015
ISBN: 9781847679208
Other Formats
Paperback from £7.69
EPUB from £5.39
Free Home Delivery
on all orders
Pick up orders
from local bookshops
Reviews
Showing 1 - 2 of 2 reviews.
Review by Eyejaybee
27/08/2015
Scarlett Thomas's previous novel, 'Our Tragic Universe' is one of my favourite books. I have already read it three or four times and I am confident that I will read it again before very long.I was, therefore, eagerly awaiting the publication of her latest novel, 'The Seed Collectors', though I was trying not to let my anticipation run too wild as I was also conscious of a series of recent disappointments where long-awaited books were concerned (with particular regard to David Mitchell's 'The Bone Clocks' and Kate Atkinson's 'A God in Ruins'). Sadly, that precaution proved justified.Far from matching up to 'Our Tragic Universe' or 'The End of My Y', both of which featured strong, intelligent and appealing protagonists engaging with complex ideas (which they managed to explain with great dexterity and clarity), this latest book seemed reminiscent of the sordid musings of an adolescent boy.
Review by m_k_m
27/08/2015
Witty, sexy and often painfully accurate portrayal of the way in which our egos stop us being happy. Scarlett Thomas's characters may be ridiculous but this time they're meant to be. It's good to be back with her: her prose is wonderfully ambitious while remaining mercifully readable. Recommended.