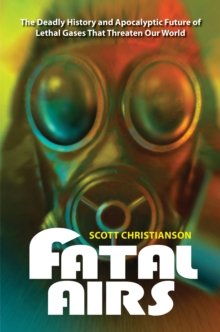 Fatal Airs: The Deadly History and Apocalyptic Future of Lethal Gases That Threaten Our World : The Deadly History and Apocalyptic Future of Lethal Gases That Threaten Our World
PDF
Please note: eBooks can only be purchased with a UK issued credit card and all our eBooks (ePub and PDF) are DRM protected.
Description
Fatal Airs: The Deadly History and Apocalyptic Future of Lethal Gases That Threaten Our World relates the fascinating-and appalling-stories of the discovery, development, applications, and occupational and public health hazards of natural and man-made gases. Some of these gases have figured in mass extinctions. Others have created havoc through their use in chemical warfare or their accidental release.
Among the hundreds of man-made lethal gases, several have been singled out for attention, including chlorine, phosgene, mustard gas, lewisite, hydrogen cyanide, and the nerve agents tabun, sarin, soman, VX, and methyl isocyanate. The book also examines some naturally occurring gases, such as carbon dioxide, sulfur dioxide, hydrogen sulfide, carbon monoxide, methane, and radon. Colorful accounts capture the characteristics and history of each of these mysterious substances, focusing on key episodes in scientific discovery and exploration since World War I.
Delivered to your inbox
to transfer to your device