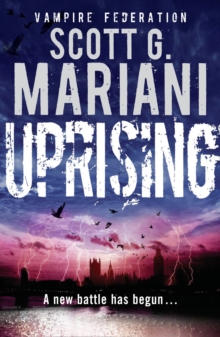 Description
A new war is dawning... For millennia, the vampires walked the earth undetected, feasting on humans in keeping with ancient tradition.In the Information Age, vampires realised they must be more careful to avoid detection.
In the late 20th century they created the global Vampire Federation to police vampire activity, with special agents like Alex Bishop authorised to hunt down her own kind who break the laws.
The old traditions are history. But not all vampires bow down to Federation rule.
When rebel vampire Gabriel Stone declares war against them, Alex and her team are plunged into danger. Police inspector Joel Solomon, haunted by a secret terror of vampires, discovers a series of corpses left behind by Stone's bloodthirsty gang.
As he and Alex are drawn together in an unlikely alliance between human and vampire, the race begins to destroy the evil Stone before his uprising tears their world apart.
Information
Format: Paperback
Pages: 480 pages
Publisher: HarperCollins Publishers
Publication Date: 10/06/2010
ISBN: 9781847562128
Free Home Delivery
on all orders
Pick up orders
from local bookshops
Reviews
Showing 1 - 1 of 1 reviews.
Review by comixminx
16/06/2015
Fast-paced, exciting thriller. I read this mostly because it was set partly in Oxford and Oxfordshire, which is local to me, and it's fun to check whether people are using the setting correctly or warping the geography for their own convenience. Also, always fun to read about the hero using a mini-JCB to demolish large parts of a mansion in the Oxfordshire countryside.<br/><br/>I got a bit fed up with how the human characters didn't last long - lots and lots of them were brought in as chumps for immediate chomping. A bit tacky I thought - could be more circumspect in the bloodbath. Otherwise, a fun, quick, but compelling read.