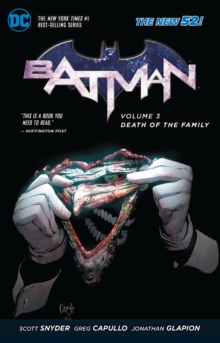 Batman Volume 3: Death of the Family TP (The New 52)
Paperback
Description
A #1 New York Times Bestseller! After having his face sliced off oneyear ago, the Joker makes his horrifying return to Gotham City!
But even for manwho's committed a lifetime of murder, he's more dangerous than ever before.
Howcan Batman protect his city and those he's closest to?
It all leads back toArkham Asylum... This new softcover collects the critically acclaimed tale"Death of the Family" from the superstar #1 New York Times best-sellingteam of writer Scott Snyder and artist Greg Capullo.
Collects Batman #13-17.
Information
Format: Paperback
Pages: 176 pages
Publisher: DC Comics
Publication Date: 13/05/2014
Category: Superheroes
ISBN: 9781401246020
Free Home Delivery
on all orders
Pick up orders
from local bookshops
Reviews
Showing 1 - 1 of 1 reviews.
Review by nmhale
27/08/2015
I love the world of Batman. Bruce Wayne is the epitome of an antihero, and his stories are exciting, dark but fascinating, and good triumphs in the end. While I expect the grim aspect of a Batman story, this volume in the series exceeded my expectations. It is very dark and disturbing. Joker returns, and considering his previous history, I suppose they had to raise the stakes to prove him as Batman's most threatening foe. Joker is first seen in a horrible killing spree in the Gotham Police Department, and Gordon is spared his life by Batman's timely arrival. Turns out Joker was only leaving his calling card, though, and soon reveals to Batman that his real target is Batman's family: Nightwing, Batgirl, and all the other crime-fighting associates considered a part of the bat family. Batman strives to stay one step ahead of the lunatic, especially after the Joker kidnaps Alfred, but he isn't able to prevent the madman from taking his family. While Batman does thwart Joker's plans before he can kill the others in front of his eyes, the whole ordeal leaves a deep, negative impact on everyone. Admittedly, the story was riveting, but equally true is the fact that I felt a sense of relief when I finished. In addition to the upsetting story line, the art was truly creepy, with the joker wearing his face pinned back in place, after having previously had it cut off. This central device sets the tone for the illustrations, which are gorey and intense, much like the story. While I like the dynamic between Batman and Joker, this was too much for me. I can't deny it was a good story: well-written, clever twists and real development for Batman and Joker, and with a potential to upset the whole Gotham universe. Nonetheless, I hope subsequent stories give us a breather.