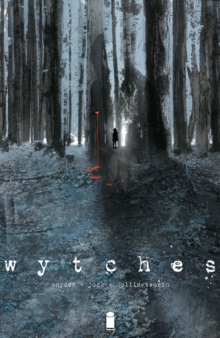 Wytches Volume 1
Paperback
Description
"It's fabulous. A triumph."-Stephen King"Dark andbrutal... Wytches are like nothing horror fans have ever seen"-USA TodayEverything youthought you knew about witches is wrong.
They are much darker, and they are muchmore horrifying.
Wytches takes the mythology of witches to a farcreepier, bone-chilling place than readers have dared venturebefore.When the Rooks family moves tothe remote town of Litchfield, NH to escape a haunting trauma, they're hopefulabout starting over.
But something evil is waiting for them in the woods justbeyond town.
Watching from the trees. Ancient...and hungry. CollectsWytches #1-6."The mostterrifying comic you've ever read." -MTVNews"Dark and brutal... Wytches are like nothing horror fans have ever seen" -USAToday"Very, very scary... Much like the works of Mary Shelley and the other writers of the VillaDiodati..." -PasteMagazine"Snyder hastackled horror before, but Wytches sets out to be an entirely new levelof scary." -ComplexMagazine"An awesome andat times terrifying tale." -IGN
Information
Format: Paperback
Pages: 144 pages
Publisher: Image Comics
Publication Date: 07/07/2015
Category: Horror & ghost stories
ISBN: 9781632153807
Free Home Delivery
on all orders
Pick up orders
from local bookshops
Reviews
Showing 1 - 2 of 2 reviews.
Review by eenerd
09/10/2015
Uhhhh, why was there so much crying in this book? I get all the screaming but...? <br/>Whatever, at least the color work was really gorgeous.
Review by semjaza
27/01/2016
Great introduction to a new series, although I could have handled more build-up and suspense. It's still creepy, but I find horror is better done when you're allowed to think about it more, and scare yourself. Other than that, this graphic novel is beautifully drawn (even if the images are often disturbing) and I cared enough about the characters to want them to survive.