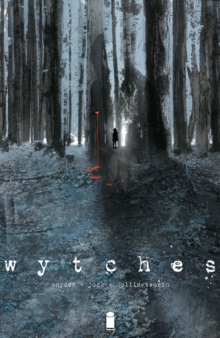 Wytches Volume 1
Paperback
Description
"It's fabulous. A triumph."-Stephen King"Dark andbrutal... Wytches are like nothing horror fans have ever seen"-USA TodayEverything youthought you knew about witches is wrong.
They are much darker, and they are muchmore horrifying.
Wytches takes the mythology of witches to a farcreepier, bone-chilling place than readers have dared venturebefore. When the Rooks family moves tothe remote town of Litchfield, NH to escape a haunting trauma, they're hopefulabout starting over.
But something evil is waiting for them in the woods justbeyond town.
Watching from the trees. Ancient...and hungry. CollectsWytches #1-6. "The mostterrifying comic you've ever read." -MTVNews"Dark and brutal... Wytches are like nothing horror fans have ever seen" -USAToday"Very, very scary... Much like the works of Mary Shelley and the other writers of the VillaDiodati..." -PasteMagazine"Snyder hastackled horror before, but Wytches sets out to be an entirely new levelof scary." -ComplexMagazine"An awesome andat times terrifying tale." -IGN
Information
Format: Paperback
Pages: 144 pages
Publisher: Image Comics
Publication Date: 07/07/2015
Category: Horror & ghost stories
ISBN: 9781632153807
Free Home Delivery
on all orders
Pick up orders
from local bookshops