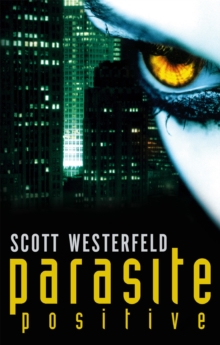 Parasite Positive
Paperback
Description
One year ago, Cal Thompson was a college freshman more interested in meeting girls and partying in New York City than in attending his biology classes.
Now, after a fateful encounter with a mysterious woman named Morgan, biology has become, literally, Cal's life.Cal was infected by a parasite that has a truly horrifying effect on its host.
Cal himself is a carrier, unchanged by the parasite, but he's infected the girlfriends he's had since Morgan-and all have turned into the ravening ghouls Cal calls peeps.
The rest of us know them as vampires. And it's Cal's job to hunt them down before they can create even more of their kind. . . .Bursting with the sharp intelligence and sly humor that are fast becoming his trademark, Scott Westerfeld's new novel is an utterly original take on an archetype of horror.
Information
Format: Paperback
Pages: 288 pages
Publisher: Little, Brown Book Group
Publication Date: 07/06/2007
Category: Horror & ghost stories
ISBN: 9781905654079
Free Home Delivery
on all orders
Pick up orders
from local bookshops
Reviews
Showing 1 - 1 of 1 reviews.
Review by AHS-Wolfy
16/06/2015
Cal Thompson was a freshman in New York looking to experience what the Big Apple had to offer than the classes he was taking. One such experience was to change his life in ways he couldn't have expected. A one night stand has left him infected with a parasite that induces a kind of vampirism in its host. Luckily for Cal he doesn't suffer the full effects as he's just a carrier. As such, he is recruited by an organisation called the Night Watch that are trying to keep the disease under control. His first task is to track down the girlfriends that he's had since he was infected as they wouldn't be as fortunate and will more than likely be full parasite positive or peeps as they are generally known. Cal will also have to try and track down his progenitor Morgan (the woman who infected him) and it's while following up a lead for this that events take an unexpected turn. Will Cal be able to cope and how much can he really trust his superiors in the Night Watch?This young adult novel is an interesting take on a modern vampire story offering up scientific reasons for the mythos that surrounds the legends. Every other chapter in the book offers up descriptions of various parasitic forms and how they interact with their hosts and environs. This really helps in convincing the reader of the realism of the story and as they are usually only a page or so long it doesn't interrupt the flow of events at all. The only thing that really lets this book down is the ending. It's quite abrupt and about all it does is set things up for the sequel. Not a cliff-hanger type but more of an info-dump. Still want to pick up that sequel though.