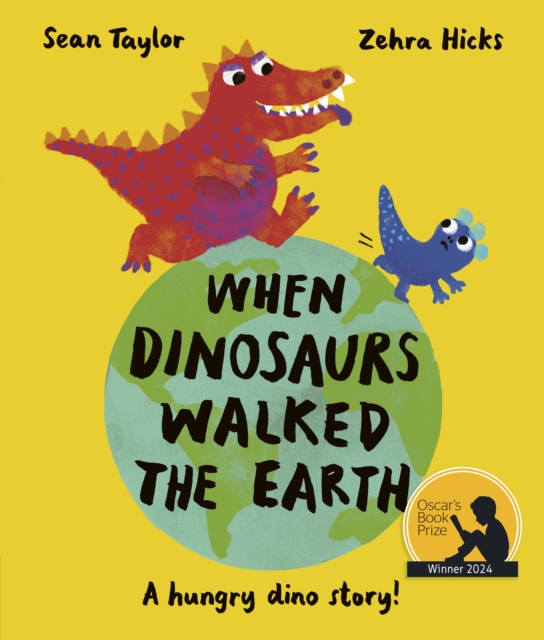 When Dinosaurs Walked the Earth
Description
Laugh and learn with this picture book set in the days WHEN DINOSAURS WALKED THE EARTH!
Dinosaurs chase each other in this hilarious explanation of the food chain.   …like the Smallasaurus, who enjoys a plant-based diet, and Badasaurus who likes to eat small dinosaurs who enjoy a plant-based diet.   It all begins when Smallasaurus has to think. And thinking can be a problem when you only have a brain the size of a walnut.   Luckily, Badasaurus only has a brain the size of a peanut . . . and so begins a hilarious game of 'cat and mouse'.   It's not long before their chasing here, there and everywhere attracts the attention of an absolutely enormous and rather hungry meat-eating dinosaur called Worseasaurus.
A choice of two dinosaurs is just what Worseasaurus loves for breakfast. Â  Will she eat the small dinosaur, with a plant-based diet? Â  Or will she eat the great big dinosaur, with a small-dinosaur-based diet?
It doesn't take long for her to choose. And it doesn't take long for Badasaurus to find out. And that's how it sometimes was back in the days   . . . WHEN DINOSAURS WALKED THE EARTH.   This exciting picture book shows kids just how much of a dinosaur-eat-dinosaur world it once was!
Bring the prehistoric period out of the classroom and to life on this vibrant journey with dinosaurs of all shapes and sizes.
This is the perfect way to introduce the concept of the food chain to little ones in a fun and interactive way.
Information
Format:
Pages:40 pages
Publisher:Quarto Publishing PLC
Publication Date:06/07/2023
Category:
ISBN:9780711277212
Information
Format:
Pages:40 pages
Publisher:Quarto Publishing PLC
Publication Date:06/07/2023
Category:
ISBN:9780711277212