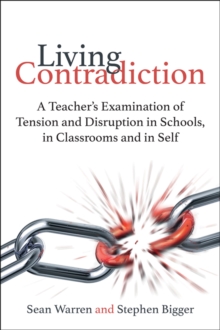 Living Contradiction : A teacher's examination of tension and disruption in schools,in classrooms and in self
Paperback / softback
Description
Values are in vogue in education: they are stated in school policies across the land.
They are a list of what the school wants people to think about them and their educational aims - that they are caring, effective, and ethical in rooting pedagogy and all educational processes in positive relationships between teachers and pupils.
Amidst the reality of classroom life, however, the very best of intentions can be compromised as the insidious influences of power, pressure, and responsibility come to bear. In this candid account, presented in the form of a dual narrative, Warren describes how he adopted a persona infused with control and intolerance as his authoritarian approach to suppressing conflict in the secondary school classroom became increasingly incongruent with his personal values and aspirations as an educator.
Then, through undertaking his action research project and engaging in a process of reconceptualisation under co-author Bigger's mentorship, Warren began to explore how he could redefine his classroom leadership and authenticate his teaching practice - without compromising standards or authority.
Living Contradiction investigates the efficacy of Warren's modified approach and tells the story of how he overcame the incessant demands of tension and disruption by becoming 'confident in uncertainty'. Grappling with both the philosophical and the pragmatic, the authors offer two distinct perspectives in their commentary on Warren's journey - supporting their interspersed critical reflections with thought-provoking insights into the methodology and outcomes of Warren's research project.
The book is split into five parts and is punctuated throughout with expert surveying of a wide range of related research that challenges the status quo on the effectiveness of punishment and authoritarianism as approaches to behaviour management.
Furthermore, in exploring how schooling should be as much about developing motivated citizens as encouraging qualifications, Living Contradiction goes in search of answers to the question that all educationalists must ask: 'What do we want our education system to do for our children?'Suitable for teachers, NQTs, and policy makers, Living Contradiction is a resonatory self-examination of teacher identity and a significant contribution to the debate about how schools and classrooms are run.
Information
Format: Paperback / softback
Pages: 336 pages
Publisher: Crown House Publishing
Publication Date: 31/08/2017
Category: Memoirs
ISBN: 9781785831775
Free Home Delivery
on all orders
Pick up orders
from local bookshops
Also by Sean Warren