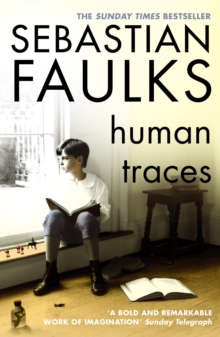 Description
As young boys both Jacques Rebiere and Thomas Midwinter become fascinated with trying to understand the human mind.
As psychiatrists, their quest takes them from the squalor of the Victorian lunatic asylum to the crowded lecture halls of the renowned Professor Charcot in Paris; from the heights of the Sierra Madre in California to the plains of unexplored Africa.
As the concerns of the old century fade and the First World War divides Europe, the two men's volatile relationship develops and changes, but is always tempered by one exceptional woman; Thomas's sister Sonia.
Moving and challenging in equal measure, Human Traces explores the question of what kind of beings men and women really are.
Information
Format: Paperback
Pages: 800 pages
Publisher: Vintage Publishing
Publication Date: 06/07/2006
ISBN: 9780099458265
Other Formats
EPUB from £3.99
eAudiobook MP3 from £29.36
Free Home Delivery
on all orders
Pick up orders
from local bookshops
Reviews
Showing 1 - 5 of 11 reviews.
Previous | Next
Review by trench_wench
16/06/2015
I've read Charlotte Gray and Birdsong, so was expecting good thing from this book. Somehow it didn't quite match up. It was an enjoyable read, and there's nothing I can put my finger on as such, but the characters never really grabbed me in the same way. There were some pretty long philosophical passages as well, about the origins of humanity, which i felt were a bit wordy and didn't grab my attention. ALSO - nayone else who has read the book - were you a bit puzzled as to why 'Midwinter' (not Thomas, the one in the tower at the asylum) seemed to be introduced as a character with a huge part to play and was then never mentioned again?
Review by Dannelke
16/06/2015
There's no point in writing a review about just HOW good a writer Faulks is. The word on this fellow has long been out. But I am amazed to see just how deep and wide his toolbox is. This book just hits the ground running in a way that reminded me of T.C. Boyle, Michael Ondaatje and the late great Robertson Davies. Yeah, he's THAT good. The puzzle for me is why he is also the new James Bond novelist. I'm quite sure this will be the best written and possibly most intricate Bond novel ever - but I'm not sure this isn't a little like killing the proverbial gnat with a howitzer. Which book of proverbs had howitzers? In any case, it will gets the job done but it's probably a bit of overkill. I suspect a truckload of money and some fan-boy idolatry were involved. - Barney Dannelke
Review by Fluffyblue
16/06/2015
Interesting book in terms of historical references to mental illness, and how it was treated. However, some parts seemed to be glossed over - although having said that it's a big book and if parts of it hadn't been glossed over it would have been mammoth!The characters were well written. I particularly enjoyed the first half of the book, talking about life in England and the descriptions of the mental hospitals of the time.
Review by dsc73277
16/06/2015
I did not particularly love or enjoy this book, but I admired it greatly. I was awestruck by Faulks's ability to accumulate a vast amount of historical scientific knowledge and build around it the story of the lives of two fictional characters, one English and one French, who set out with the bold ambition of curing madness.
Review by bookmart
16/06/2015
An epic tale of two psychiatrists at the begining of the 1900's. The historical context was interesting and carefully explained. The pace and interest was maintained throughout the book and the characters were well developed. It certainly felt well researched, although I'm no expert . A good, but not a light, read.