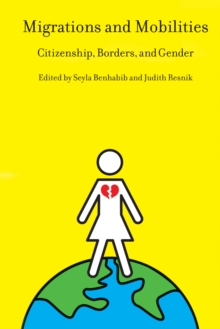 Migrations and Mobilities : Citizenship, Borders, and Gender
Hardback
Description
Bibliography: http://www.nyupress.org/webchapters/9780814775998_benhabib_biblio.pdfIn an increasingly globalized world, the movement of peoples across national borders is posing unprecedented challenges, for the people involved as well as for the places to which they travel and their countries of origin.
Citizenship is now a topic in focus around the world but much of that discussion takes place without sufficient attention to the women, men, and children, in and out of families, whose statuses and treatments depend upon how countries view their arrival.
As essays in this volume detail, both the practices and theories of citizenship need to be reappraised in light of the array of persons and of twentieth-century commitments to their dignity and equality. Migrations and Mobilities uniquely situates gender in the context of ongoing, urgent conversations about globalization, citizenship, and the meaning of borders.
Following an introductory essay by editors Seyla Benhabib and Judith Resnik that addresses the parameters and implications of gendered migration, the interdisciplinary contributors consider a wide range of issues, from workers' rights to children's rights, from theories of the nation-state and federalism to obligations under transnational human rights conventions.
Together, the essays in this path-breaking collection force us to consider the pivotal role that gender should play in reconceiving the nature of citizenship in the contemporary, transnational world. Contributors: Selya Benhabib, Jacqueline Bhabha, Linda Bosniak, Catherine Dauvergne, Talia Inlender, Vicki C.
Jackson, David Jacobson, Linda K. Kerber, Audrey Macklin, Angela Means, Valentine M. Moghadam, Patrizia Nanz, Aihwa Ong, Cynthia Patterson, Judith Resnik, and Sarah K. van Walsum.