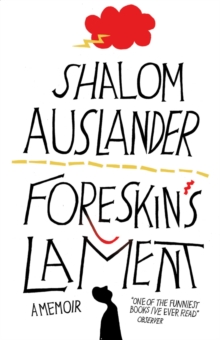 Foreskin's Lament
Paperback
Description
Shalom Auslander was raised with a terrified respect for God.
Even as he grew up, defying and eventually being cast out of his community, he could not find his way to a life in which he wasn't locked in a daily struggle with Him.
Foreskin's Lament is a rich and fascinating portrait of a man grappling with his faith, his family and his community. Bracing and witty ...Never, frankly, can there have been a more blasphemous book ...Foreskin's Lament somehow expresses the ideas of Richard Dawkins in the tone of David Sedaris.
You can read it for the humour, you can read it as reportage into a secretive and bizarre world, you can read it as a personal tale of triumph over adversity, or you can just read it for the misery.
It doesn't really matter. But do read it' William Sutcliffe, Independent on Sunday One of the funniest books I've ever read, killingly so' Hilary Spurling, Observer Exceptional ...very, very funny' Time Out Painfully poignant and hilariously noir' Jewish Chronicle By turns hilarious and devastating ...Few books are laugh-out-loud funny.
This one is' Naomi Alderman, Sunday Times America's hottest, funniest, most controversial young Jewish memoirist ...blackly hilarious, groundbreaking' The Times
Information
Format: Paperback
Pages: 320 pages
Publisher: Pan Macmillan
Publication Date: 01/01/2009
Category: Autobiography: general
ISBN: 9780330453547
Free Home Delivery
on all orders
Pick up orders
from local bookshops
Reviews
Showing 1 - 2 of 2 reviews.
Review by presto
16/06/2015
Shalom Auslander looks back at his childhood and his teens, his rigid upbringing as an Orthodox Jew, while in the present he is awaiting the birth of his first child; he strings to two side by side until he brings us up to date. It is an account written with economy, openly and frankly, he does not shy back from saying what thinks, and the butt of most of his criticism is the Creator, followed by his (hypocritical) parents. Shalom Auslander's memoir is very funny, irreverent to the extreme, but also perhaps very sad. He seems to land on his feet eventually, but not without a great deal of heartache and loss along the way. He sees his Creator as a vengeful, spiteful entity who repays his sins with potential calamities, and much of the humour here is derived from his attempts at bargaining in connection with this, and it is very funny. But one cannot but think how unfortunate he has been with his upbringing; not only living with the hypocrisy, but bound to a set of beliefs so petty as to consider sitting on the grass on the Sabbath a sin as it might constitute printing should any stain from the grass transfer to one's clothes (the Creator, if one believes in such, has to be more than that surely?) That is just one of the numerous possible sins Auslander cites in his memoir. But sadly his Yeshiva education seems to have ignored the Creator's cardinal quality, Love. But that seems hardly surprising as it failed in other areas too: Moses' sin was not in striking the rock to draw water as he repeatedly says and was presumably taught, but a quite different failure in connection with that act (Numbers chp 20 vs 12); a failure from which one could possibly learn.I can imagine many will be shocked by Auslander's memoir, the language alone might well cause upset, but if that does not the profanity almost certainly for some will; I have to admit that I cringed more than a few times. But I would urge all to read it, not because it is uproariously funny, which it is, but because there is a significant lesson to be learned here whatever one's beliefs.
Review by SqueakyChu
16/06/2015
My first reaction to reading this biography was to question why so many reviewers dubbed this book "hilarious". I admit it was entertaining and even slightly amusing, but rather than humorous, I found it quite sad. It's the personal story of the author's growing up in a family belonging to an ultra-Orthodox Jewish community in Monsey, New York. To further complicate the author's rigid upbringing within the tight religious requirements of that community, he came from a family with a father who seemed very abrupt and angry as well as a mother whose life seemed to be dominated purely by those strict religious rules. For someone who grows up in a nurturing, loving family, a strict religion may be comforting. Not so for someone who grows up with the absence of a sense of well-being. Such a person wants to reject what he doesn't like by being antagonistic and acting out. Over and over, Auslander purposely acted contrary to the rules of his religion. Oddly enough, doing that never gave him much of a sense of peace.Beware, readers, of uncensored blasphemy in this book. Some might find this blatantly offensive. I cringed quite a few times in reading this book, but I found Auslander's story rather interesting despite his harsh way of telling it. I tried to push aside its irreverent tone to understand what this very angry author was trying to say. He equated his upbringing to that of a veal being raised in a cramped box, always trapped and subject to whatever befell him and unable to escape. I wonder if Auslander's anger towards his parents became an all-encompassing fury that was more easily directed to God, who may or may not exist, but nevertheless became a powerful symbol of the potential for of punishment throughout this book.As I was reading about Auslander's background, I thoroughly enjoyed the many specific references to Judaism because they seemed very familiar to me. I especially liked the chapter about the "bracha bee" which was a contest at Auslander's school in which the students had to name which blessing went with which type of food. I remember that contest from my Hebrew school days! In the middle of reading this book, I felt I needed to know more about the author so I tuned into an NPR interview (the link is on the author page here on LibraryThing) with Auslander to see what he was all about. My reaction to hearing him interviewed was that his book is pretty much on the money. That's who he is. I wish him well. I liked his book. I also liked his line, "That is so God".