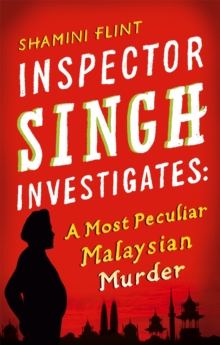 Inspector Singh Investigates: A Most Peculiar Malaysian Murder : Number 1 in series
Paperback
Description
Inspector Singh is in a bad mood. He's been sent from his home in Singapore to Kuala Lumpur to solve a murder that has him stumped.
Chelsea Liew - the famous Singaporean model - is on death row for the murder of her ex-husband.
She swears she didn't do it, he thinks she didn't do it, but no matter how hard he tries to get to the bottom of things, he still arrives back at the same place - that Chelsea's husband was shot at point blank range, and that Chelsea had the best motivation to pull the trigger: he was taking her kids away from her.
Now Inspector Singh must pull out all the stops to crack a crime that could potentially free a beautiful and innocent woman and reunite a mother with her children.
There's just one problem - the Malaysian police refuse to play ball...
Information
Format: Paperback
Pages: 304 pages
Publisher: Little, Brown Book Group
Publication Date: 23/04/2009
Category: Crime & mystery
ISBN: 9780749929756
Free Home Delivery
on all orders
Pick up orders
from local bookshops
Reviews
Showing 1 - 5 of 7 reviews.
Previous | Next
Review by riverwillow
16/06/2015
Great book. Inspector Singh is a brilliant central character whose humanity drives the plot. I loved the many twists and turns in the plot, and was genuinely surprised by the resolution. I particularly enjoyed how Singh kept comparing, not always favourably, Malaysia with Singapore, and his strained relationship with his sister. I look forward to reading the other books in the series, and. hopefully, meeting his unsatisfactory wife.
Review by smik
16/06/2015
Chelsea Liew, mother of three, Singaporean ex-model, is in custody in Kuala Lumpur, remanded on the charge of murdering her ex-husband Alan Lee, business magnate, head of Lee Timber, a firm rumoured to be plundering and laying waste to Borneo's reamining natural rainforest. Alan Lee and his wife had been in a very public custody battle for their 3 boys, complicated by the fact that he had recently converted to Islam, thus shifting the jurisdiction of which court would decide on the custody. Alan Lee was shot just a week before on a deserted street two hundred yards from his front gate and his ex-wife was arrested within hours and charged with his murder.Enter Inspector Singh, sent from Singapore, to ensure that Chelsea who has retained her Singaporean citizenship despite twenty years of marriage and residency in KL, gets a fair trial. A problem arises when Singh becomes convinced that Chelsea Liew is not guilty. It becomes even more complicated when Jasper Lee, Alan Lee's elder brother, and self declared nature activist, walks into the Bukit Aman police station and declares that he in fact murdered Alan.Inspector Singh has not been sent to KL because he is a brilliant detective ensured of success. In fact quite the opposite. he has been handed a "poisoned chalice". The case is surrounded by politics and he is one of the last mavericks in the Singapore police force, "the elephant in the room that noone talked about but everyone hoped would do the decent thing and take early retirement". And rather conveniently he has a sister in KL so he can stay with her if needed.INSPECTOR SINGH INVESTIGATES: A Most Peculiar Malaysian Murder is Shamini Flint's debut crime novel, the first of a promised series of 3, and I find myself quite willing to read the second. This is despite the fact that there were times when I almost lost interest in this one.It is hard to put my finger on what went wrong for me, but I suspect that at times there was just too much detail provided and some of it was repetitious. I understand though the author's desire to make sure the reader understands the cultural context of the novel's setting. She also picks up on internationally sensitive topics such as the pollution caused annually by the burning of Indonesian rainforests. The custody battle reminded me a little of the case of Shahira Gillespie, particularly of some of the issues that surfaced there.I liked the character of Inspector Singh and I think Flint has created a protagonist with possibilities. Despite the fact that INSPECTOR SINGH INVESTIGATES: A Most Peculiar Malaysian Murder is a relatively short novel, I think it possibly needed a bit more editing, to get more "show" and less "tell" into it.
Review by JulesJones
16/06/2015
A maverick senior police officer follows his instincts to solve a crime, in spite of interference from above. It's a stock pattern in the mystery genre, but this has one or two interesting twists. For this inspector is a Sikh in the Singapore police force, and the politics he has to negotiate include the somewhat strained relationship between Singapore and Malaysia. A famed Singapore model has been arrested for the murder of her Malaysian logging industry tycoon husband. The couple have been resident in Malaysia for two decades, and there's an obvious motive in a messy divorce case, but perhaps the local police have been a little too grateful for a nice obvious motive. The Singapore public want their own police involved, and the Singapore government is willing to insist that there be cross-border co-operation in looking after its citizen's rights. Inspector Singh has annoyed one too many people, and to his superiors he seems like the ideal fall guy for a case where race, religion and nationalism are likely to overshadow the truth.Singh isn't what the Malaysian detective in charge of the case wanted, but both men recognise the political realities of their situation, and try to make the best of it. And when another suspect presents himself at the police station, Inspector Mohammad becomes rather more willing to let his young sergeant assist Singh instead of simply keeping tabs on him. As the case grows ever more convoluted and new motives appear by the bushel, all three men have their hands full...It's an entertaining read, and clearly written by someone who knows from the inside the cultures and issues she's writing about. Sometimes a little too clearly, as the cultural descriptions get a bit too info-dumping in places, rather than providing a sense of place. I did wonder whether this was the writer's choice, or an editorial decision to make sure UK and US readers had enough background to follow what was going on. But one thing I particularly liked was the way Flint shows the culture clash problems from multiple angles, rather than simply painting one side as the bad guys.There are some other problems: I found the book structure a bit choppy in places, I don't think it quite works in terms of the reader being able to work out whodunnit just from the clues in the text, and it gets a touch too preachy about the logging industry in places (partly because one of the villain characters feels a bit too Stock Villain to me). But Singh himself is a very likeable character, and some of the other characters are very well drawn. While this book isn't a keeper for me, I want to read the next one in the series.
Review by austcrimefiction
16/06/2015
Think Hercule Poirot in a Sikh turban and the tropical heat of Kuala Lumpur, but add a hefty dose of rumpled Columbo and I think that's the best description of Inspector Singh of the Singapore police that I can come up with. A MOST PECULIAR MALAYSIAN MURDER is the first in this series from Singapore based author Shamini Flint.This book is definitely on the lighter side of crime fiction, I'll have to read the next couple that I have here to be able to say if that's an ongoing characteristic, but I'm guessing it's probably exactly where the books are heading. Whilst there is a shooting murder in this book, it happens off-page, there's very little in the way of rushing around on the part of the main protagonist and whilst there is always the threat of the death penalty hanging over the chief suspect, there's a sense that Inspector Singh will, of course, save the day. Which he does with a hefty dose of gentle humour, quite questioning, observation and just enough prodding of various sore points. Or at least he sort of does. But more on plot later. It seems a more than reasonable expectation that the personality of the main character is going to inform each of his future investigations, and whilst Singh takes his job seriously, he's very much set up to be a "character".Of course a debut book in a series has to be read with that in mind, and A MOST PECULIAR MALAYSIAN MURDER is an unusual book in that Inspector Singh isn't so much "investigating the crime" as checking that another authority have got it right. He's not in his usual territory and must rely on some local support (and use some indifference from the local authorities as a spur to proceed). There's a few sub-themes working their way through the book - with the chief suspect fighting the Syariah courts for custody of her children, a battle for control of the family company, and a tribe of native people's being butchered, all of which are pulled together at the end of the book with some hefty reeling in of the various lines. It's not too hard to work out that these threads are all going to coincide, and therefore have some idea of where the resolution is coming from, but there are precious few clues for the reader to work with. Really there's less of a solving and more of a revealing going on, and because of that I doubt it's going to be a very satisfactory ending for fans of guessing the culprit before the author reveals all.As the start of a new series of rumpled, "character" type detectives, I thought A MOST PECULIAR MALAYSIAN MURDER was a good, light, fun read, introducing a new protagonist who really seems to have some potential. In future books I really hope he hits his stride, embraces his inner grumpy old man and gets to grips with his surroundings. I'm also hoping that the next books have a little more leeway to introduce the world that Inspector Singh inhabits, as this first book did seem to have it's hands full introducing him.
Review by zeborah
16/06/2015
I'm not really a mystery fan, so I don't know if the genre is as white-English-village as it's stereotyped to be, but if so this makes a great change.<br/><br/>It wasn't however unproblematic. Islam is, though not evil, certainly a major antagonistic force in this story. We briefly encounter a nomadic tribe in Borneo whose nobly pacific ways are under threat by evil Big Commerce, and who are championed by a white guy gone native, not to even the whole avenging-the-dead-wife-and-son motif. And... I think the author intended to portray Inspector Singh in a fat-positive way? but the language used struck me as rather failing in that goal.<br/><br/>On broader terms, I do think that when you're writing a murder mystery in an omniscient point of view, you've got to be <em>really</em> good or else it just looks like multi-pov-of-convenience. Though I admit, I somehow wasn't terribly annoyed by the fact that the author had been hiding a solution which we should otherwise have seen in the character's thoughts before the end - possibly because we'd had scenes with all the characters' thoughts by then, so I was already resigned to the fact that she wasn't playing fair <em>somewhere</em> and was just waiting to find out where.<br/><br/>I think it was supposed to be interesting that large chunks of this unfolded without, or even in spite of, Inspector Singh's involvement? Theoretically I like that conceit, and maybe it'd succeed better for someone more familiar with the genre. For me it wasn't lampshaded quite enough so felt more like weak plotting than genre subversion.<br/><br/>But really the worst fault I found in it was that the prose was devastatingly lackluster. I was so unimpressed by it that it pains me to admit that such a judgement is necessarily subjective (my sister threw Twilight against the proverbial wall after a few pages of its prose, whereas I thought it was perfectly serviceable) but there, maybe others will enjoy it.
Also in the Inspector Singh Investigates Series series | View all