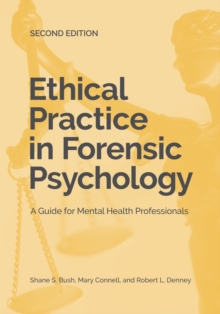 Ethical Practice in Forensic Psychology : A Guide for Mental Health Professionals
Paperback / softback
Description
Forensic psychologists have consistently relied upon Ethical Practice in Forensic Psychology: A Guide for Mental Health Professionals for expert advice on negotiating ethical dilemmas in forensic contexts, including civil, criminal, and family law cases.
This fully-updated second edition presents a practical, systematic decision-making model based on positive ethics that practitioners can use to address conflicting roles and responsibilities, balance competing ethical and legal requirements, and maintain high standards of ethical practice and professional competence. Authors Shane Bush, Mary Connell, and Robert Denney are renowned experts in forensic psychology, including neuropsychological evaluations. They answer complex ethical questions related to third-party requests, collecting and reviewing data from multiples sources, conducting forensic evaluations, and reporting results in written reports and courtroom testimony.
They also offer suggestions for addressing potential ethical misconduct by colleagues.
Detailed case examples illustrate how to apply this book's ethical decision-making model in realistic scenarios.
This second edition examines significant new research, and updates to the APA Ethics Code and other resources that have emerged since the first edition.
Information
Format: Paperback / softback
Pages: 188 pages, 2 tables, 4 exhibits
Publisher: American Psychological Association
Publication Date: 30/12/2019
Category: Care of the mentally ill
ISBN: 9781433831171