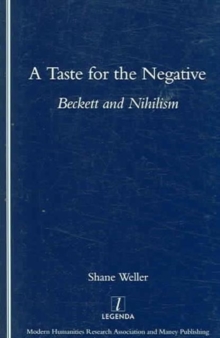 A Taste for the Negative : Beckett and Nihilism
Paperback / softback
Description
Since the mid-1950s, when the works of Samuel Beckett began to attract sustained critical attention, commentators have tended either to dismiss his oeuvre as nihilist or defend it as anti-nihilist.
On the one side are figures such as Georg Lukacs; on the other, some of the most influential philosophers and literary theorists of the post-war era, from Theodor Adorno to Alain Badiou.
Taking as his point of departure Nietzsche's description of nihilism as the 'uncanniest of all guests', Weller calls this critical tradition into question, arguing that the relationship between Beckett's texts and nihilism is one that will always be missed by those who are simply for or against Beckett.