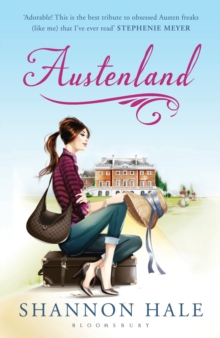 Austenland : A Novel
Paperback
Description
Jane is a young New York woman who can never seem to find the right man-perhaps because of her secret obsession with Mr. Darcy, as played by Colin Firth in the BBC adaptation of Pride and Prejudice.
When a wealthy relative bequeaths her a trip to an English resort catering to Austen-obsessed women, however, Jane's fantasies of meeting the perfect Regency-era gentleman suddenly become more real than she ever could have imagined.
Is this total immersion in a fake Austenland enough to make Jane kick the Austen obsession for good, or could all her dreams actually culminate in a Mr. Darcy of her own? In this addictive, charming and compassionate story, Shannon Hale brings out the Jane Austen obsessive in all of us.
Information
Format: Paperback
Pages: 208 pages
Publisher: Bloomsbury Publishing PLC
Publication Date: 28/03/2013
ISBN: 9781408840092
Other Formats
Paperback from £6.15
EPUB from £6.39
Free Home Delivery
on all orders
Pick up orders
from local bookshops
Reviews
Showing 1 - 4 of 4 reviews.
Review by Herenya
10/11/2015
"It is a truth universally acknowledged that a thirty-something woman in possession of a satisfying career and fabulous hairdo must be in want of very little, and Jane Hayes, pretty enough and clever enough, was certainly thought to have little to distress her." But secretly, Jane has an obsession with Mr Darcy (Colin Firth's Darcy, to be precise) and the real men she meets aren't meeting her Darcy-inspired standards. When her wealthy great-aunt dies, Jane is bequeathed a three-week holiday to Pembrook Park, a British Austen-themed resort in England. Jane struggles with Regency custom and costumes, and flirts with gardeners and gentlemen — and maybe even with the actors who play them.
But is this a final farewell before relinquishing her Darcy obsession? A last party before she accepts her single life and moves on? Or does she have a chance of finding what she really wants?
And what does she really want, anyway?

Jane as a character took a little while to warm to, as did the distance between reader and character which the novel's tone creates. But I can see why some might find Jane frustrating (ultimately, I didn't), and the tone actually works very well. The narrative voice doesn't expect you to always agree with Jane's opinions or decisions - nor does it disguise that Jane isn't an Austen-heroine. There is a gentle wit and humour, and a lot of sympathy for Jane. "It [her P&P/Mr Darcy/Colin Firth obsession] was embarrassing. She didn't really want to talk about it. So let's move on."
Despite being firmly set in reality, there is something akin to Lost in Austen in this, as Jane finds herself submersed in a world she has dreamed about for so long and learns it isn't a perfect paradise. At it's heart, Austenland is about searching for something that is real. And it takes spending time in a world of pretense for Jane to have the space to discover things about herself, including the many things in her own world she appreciates. She can't be an Austen-heroine - she lives in the wrong era and she needs to be herself.

Pembrooke Park is a little weird (and not completely likable) but considering  the sort of money it would require to maintain and that it's a 21st century resort, it feels plausible - realistic. I've seen this book accused of being crass and disturbing, and cheapening Austen's works. Personally, I appreciated the qualities which mean Austenland would be a PG-rated film, and the balance it kept between gentleness (which included a respect for Austen!) and realism (of which disquieting moments are a part). It is much more of a Lost in Austen than a Bridget Jones' Diary, but it isn't a fairytale. I liked that.

I didn't even find it predictable: I could see several different directions the story could have taken and still concluded satisfactorily. As the story twisted between these possibilities, I wasn't even certain how I wanted it to end... and consequently, continued to be surprised.
Ultimately, Austenland is entertaining, satisfying and put a big smile on face. I can see how it wouldn't appeal to everyone's "internal readers" (to borrow an expression from the author), but I enjoyed it very much indeed.
Review by shelleyraec
16/06/2015
Austenland is a delightful novel with a unique twist on the continuing homage to classics author, Jane Austen. Though it was released several years ago it has been republished by Bloomsbury ahead of its debut as a motion picture starring Keri Russell, due for release in September 2013.In Austenland, New Yorker Jane Hayes is thirty two, single and nurses a secret obsession with Pride and Prejudice, particularly the BBC film adaption, and her romantic ideal Mr Darcy/Colin Firth. When Jane's aunt dies and bequeaths her an all expenses vacation to Pembroke Park, a UK resort that immerses their guests in a Regency England 'experience', Jane hopes that living the fantasy will finally allow her to put her obsession behind her, before she winds up a spinster.Though I do appreciate Jane Austen's contribution to the literary world I wouldn't say I am a huge fan and of her works, Emma is my favourite rather than the more popular Pride and Prejudice. As such, I wasn't at all sure what to expect from Austenland but given it's brevity (at just under 200 pages) I was willing to give it a chance and I was pleasantly surprised to find that I was quickly caught up in this delightful romantic comedy.I have no doubt Pembroke Park, should it ever actually exist, would have a steady stream of clientele enamoured by the romance of the Regency period (while still enjoying some of today's mod cons). In Austenland, the resort is populated by paying guests and actors required to conduct themselves in a manner befitting Jane Austen's time. I thought Hale created a unique and fun setting, and though it takes a while for Jane Hayes to succumb to the experience, which requires her give up her mobile phone and wear a bonnet whenever she steps outside, eventually she submits to its charms, encouraged by the attention of the Park's gardener and the gruff Mr Nobley.This lighthearted novel is a quick, entertaining read sure to delight Jane Austen and romance fans alike. I'm looking forward to reading the next Austenland book, Midnight in Austenland, from Hale soon.
Review by Lisa17
16/06/2015
Very silly, a little cringeworthy in places, but did make me laugh out loud quite a lot. And I didn't guess the ending. Perfect for a light, mindless read.
Review by elliepotten
23/09/2015
This book's been drifting on and off my reading radar for a while, when it first hit bookshop shelves and then again when the movie came out, but I finally picked up a copy from The Works this month and devoured it pretty much whole. It was a nice break from the relentless misery of my other read at the time - <i>Lord of the Flies</i> - and FAR better than I expected. It's about a Darcy-obsessed woman who travels to England to visit a holiday estate which promises a complete Austen experience - manners, men, a grand ball, and a happily ever after. Jane hopes to use it to purge herself of her life-squashing romantic fantasies - only to find that maybe she's not quite done with love and the Austen magic after all. I really enjoyed it and I'm looking forward to the sequel - same premise, new character - which I bought at the same time.