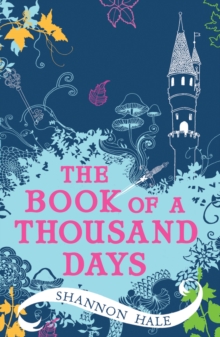 The Book of a Thousand Days
Paperback
Description
When a beautiful princess refuses to marry the prince her father has chosen, her father is furious and locks her in a tower.
She has seven long years of solitude to think about her insolence.
But the princess is not entirely alone - she has her maid, Dashti.
Petulant and spoilt, the princess eats the food in their meagre store as if she were still at court, and Dashti soon realises they must either escape or slowly starve.
But during their captivity, resourceful Dashti discovers that there is something far more sinister behind her princess's fears of marrying the prince, and when they do break free from the tower, they find a land laid to waste and the kingdom destroyed.
They were safe in the tower, now they are at the mercy of the evil prince with a terrible secret.
Thrilling, captivating, and a masterful example of storytelling at its best.
The princess's maid is a feisty and thoroughly modern heroine, in this wonderfully timeless story.
Information
Format: Paperback
Pages: 320 pages, Illustrations, map
Publisher: Bloomsbury Publishing PLC
Publication Date: 01/02/2009
Category: General
ISBN: 9780747597810
Free Home Delivery
on all orders
Pick up orders
from local bookshops
Reviews
Showing 1 - 2 of 2 reviews.
Review by Rhinoa
16/06/2015
The beautiful Lady Saren has refused to marry the man her father has chosen for her, Lord Khasar of Thoughts of Under, and as punishment she is sent to live in a tower for 7 years unless she changes her mind. With her is her maid, a mucker girl called Dashti. The story evolves through a series of diary entries by Dashti as she looks after Lady Saren. Lady Saren is a timid lady and not like Dashti imagined, and she is particularly afraid of her intended husband. She is already promised to her childhood love Khan Tegus who visits them in the tower. Lady Saren is too afraid to speak to him (they have only conversed by letter and have never actually met), so she gets Dashti to pretend to be her.Dashti keeps Saren amused by singing her the special healing songs. She is doing a good job of rationing their food for the two of them until Lord Khasar pays them a visit. It seems he has a secret that Lady Saren is privy to which is what has her so terrified. That night there are lots of strange sounds and the next morning all their guards are gone. Could it be that they are dead and the girls are left alone with no hope of release? Also Dashti is becoming quickly disheartened as they have a rat problem and Lady Saren is eating more of their food that she should so they will have no where near enough to last them 7 years, if there is anyone around to come and release them.As I said I love her Goose Girl books and it is always a little worrying to read something different by an author you love in case it doesn't meet your expectations. Luckily this was an excellent read. I loved the dairy entry format and Dashti was a great narrator. Lady Saren was very wishy washy, but she was meant to be so that was ok. Definitely recommended to anyone who loves a good fairy tale or a good story.
Review by soybean-soybean
16/06/2015
this became one of my favourite reads..i really liked how the characters maturity levels evolved and how rich the storytelling was..i also liked the cover and the book was so engaging throughout that i barely managed to put it down