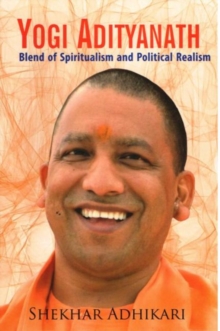 Yogi Adityanath : Blend of Spiritualism and Political Realism
Hardback
Description
The soul of a nation is its culture and a religion or sect cannot replace it.
Though India's boundaries have been changing, its culture has remained the same.
During crises like war or natural calamities, the entire country unites and faces them together.
The feelings of integrity and unity are an indication of India's unique identity. Indian soldiers, on the one hand, protect our territorial integrity and, on the other, sages and workers promote Indian culture and nationalism. While trying to integrate every aspect of Indian nationalism, Yogi Adityanath has vividly described Indian culture and correlated it with the current situation prevailing in.
His well-articulated thoughts on nation-building combine the elements of spiritualism and political realism.
Power politics and the role of various political parties in India were important factors that led to a deterioration of socio-economic conditions in India in general and Uttar Pradesh in particular.
This book has been written to imbue the idea of the ethos of a nation`s culture relating to the political restructuring of the State. Against the background of our political setup, Yogi Adityanath addresses not only spiritualism but focuses on various problems like the declining role of political parties, poverty, corruption, governance and law and order.
The author critically examines these issues and agrees with Yogi Adityanath that if a nation has to develop, it has to bring about important changes in its system. By doing so, India`s culture and political system would make India and Uttar Pradesh an `Uttam Country' and `Uttam State.'
Free Home Delivery
on all orders
Pick up orders
from local bookshops