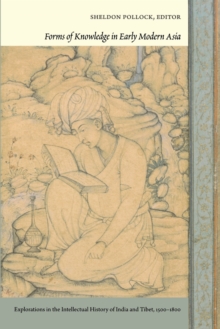 Forms of Knowledge in Early Modern Asia : Explorations in the Intellectual History of India and Tibet, 1500-1800
Paperback / softback
Description
In the past two decades, scholars have transformed our understanding of the interactions between India and the West since the consolidation of British power on the subcontinent around 1800.
While acknowledging the merits of this scholarship, Sheldon Pollock argues that knowing how colonialism changed South Asian cultures, particularly how Western modes of thought became dominant, requires knowing what was there to be changed.
Yet little is known about the history of knowledge and imagination in late precolonial South Asia, about what systematic forms of thought existed, how they worked, or who produced them.
This pioneering collection of essays helps to rectify this situation by addressing the ways thinkers in India and Tibet responded to a rapidly changing world in the three centuries prior to 1800.
Contributors examine new forms of communication and conceptions of power that developed across the subcontinent; changing modes of literary consciousness, practices, and institutions in north India; unprecedented engagements in comparative religion, autobiography, and ethnography in the Indo-Persian sphere; and new directions in disciplinarity, medicine, and geography in Tibet.
Taken together, the essays in Forms of Knowledge in Early Modern Asia inaugurate the exploration of a particularly complex intellectual terrain, while gesturing toward distinctive forms of non-Western modernity.Contributors.
Muzaffar Alam, Imre Bangha, Aditya Behl, Allison Busch, Sumit Guha, Janet Gyatso, Matthew T.
Kapstein, Francoise Mallison, Sheldon Pollock, Velcheru Narayana Rao, Kurtis R.
Schaeffer, Sunil Sharma, David Shulman, Sanjay Subrahmanyam, Mohamad Tavakoli-Targhi
Information
Format: Paperback / softback
Pages: 392 pages, 1 map, 3 figures
Publisher: Duke University Press
Publication Date: 14/03/2011
Category: Asian history
ISBN: 9780822349044