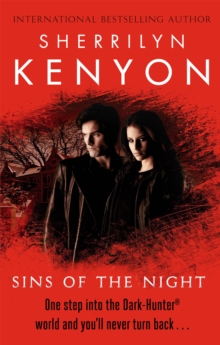 Sins Of The Night
Paperback
Description
In the realm of the Dark-Hunters there is a code of honour that even immortal bad boys must follow.
No human can be harmed. Yet every few centuries or so, there is always one who thinks himself above the Code...Alexion is the defender of the code that governs the immortals.
He is judge, jury and executioner: if they step over the line it's his wrath they will face.
For centuries Alexion has survived alone. Isolated and haunted by his human past, he has learned to distance himself from his emotions and his role ensures that even his fellow Dark-Hunters give him a wide berth. However, this time the rogue Dark-Hunter is an old friend.
Alexion cannot destroy him without at least allowing him one last chance at redemption.
But to do this he needs the help of a female Dark-Hunter who goes by the name Danger. And the last time Alexion ran into her, she tried to kill him...
Information
Format: Paperback
Pages: 384 pages
Publisher: Little, Brown Book Group
Publication Date: 01/11/2011
Category: Fantasy
ISBN: 9780749955403
Free Home Delivery
on all orders
Pick up orders
from local bookshops
Reviews
Showing 1 - 1 of 1 reviews.
Review by Lauren2013
16/06/2015
Sins of the Night
3 Stars

Synopsis
The Dark-Hunters in Mississippi are being led astray and Dangereuse St. Richard calls Acheron for help. Ash sends in his right hand man, Alexion, who is tasked with investigating, judging and, if necessary, executing wayward Dark Hunters. Danger is wary of Alexion's intentions but the two must work together if they are to thwart the nefarious scheme of a powerful enemy.

Review

The story moves away from the established group of Dark Hunters in New Orleans and readers are introduced to a host of new characters none of whom are developed properly. Even Danger and Alexion are treated very superficially and I am surprised that the author who gave us Zarek and Valerius wrote a character as one-dimensional as Alexion.

The romance lacks chemistry and the plot is utterly predicable with one cliche after another. Moreover, the allusions to popular culture are excessive and unnecessary, and it is a pity that the first female Dark-Hunter heroine isn't more kick-ass (where is Tabby when you need her).

There are a few highlights to the book. First and foremost is the new and compelling information concerning Acheron's origins, which means that followers of the series should read this one to discover the interesting tidbits. Another is the explanations regarding the Charonte demons - I just love that Simi, she is so adorable! Finally, Stryker is a truly despicable villain and he makes my skin crawl - it will be excellent to see him eventually get his comeuppance (hopefully).

Overall, a so-so addition to the series. It is a good thing that the next book focuses on a were-hunter because this Dark Hunter story definitely fell flat.
Also in the The Dark-Hunter World series | View all