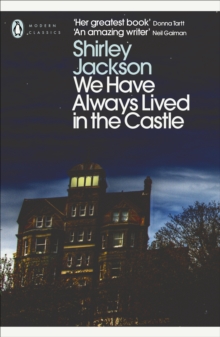 We Have Always Lived in the Castle
Paperback
Description
Shirley Jackson's masterpiece: the deliciously dark and funny story of Merricat, tomboy teenager, beloved sister - and possible lunatic. 'Her greatest book ... at once whimsical and harrowing, a miniaturist's charmingly detailed fantasy sketched inside a mausoleum ...
Through depths and depths and bloodwarm depths we fall, until the surface is only an eerie gleam high above, nearly forgotten; and the deeper we sink, the deeper we want to go' Donna Tartt, author of The GoldfinchLiving in the Blackwood family home with only her sister Constance and her Uncle Julian for company, Merricat just wants to preserve their delicate way of life.
But ever since Constance was acquitted of murdering the rest of the family, the world isn't leaving the Blackwoods alone. And when Cousin Charles arrives, armed with overtures of friendship and a desperate need to get into the safe, Merricat must do everything in her power to protect the remaining family.
This Penguin edition includes an afterword by the acclaimed novelist Joyce Carol Oates.
All Shirley Jackson's other novels, plus The Lottery and Other Stories, are available in Penguin Modern Classics.Shirley Jackson was born in California in 1916.
When her short story The Lotterywas first published in The New Yorker in 1948, readers were so horrified they sent her hate mail; it has since become one of the most iconic American stories of all time.
Her first novel, The Road Through the Wall, was published in the same year and was followed by five more: Hangsaman, The Bird's Nest, The Sundial,The Haunting of Hill House and We Have Always Lived in the Castle, widely seen as her masterpiece.
In addition to her dark, brilliant novels, she wrote lightly fictionalized magazine pieces about family life with her four children and her husband, the critic Stanley Edgar Hyman.
Shirley Jackson died in her sleep in 1965 at the age of 48.'The world of Shirley Jackson is eerie and unforgettable ...
She is a true master' A. M. Homes'A masterpiece of Gothic suspense' Joyce Carol Oates'If you haven't read We Have Always Lived in the Castle ... you have missed out on something marvellous' Neil Gaiman
Information
Format: Paperback
Pages: 176 pages
Publisher: Penguin Books Ltd
Publication Date: 01/09/2009
ISBN: 9780141191454
Other Formats
EPUB from £4.99
eAudiobook MP3 from £11.72
Free Home Delivery
on all orders
Pick up orders
from local bookshops
Reviews
Showing 1 - 5 of 11 reviews.
Previous | Next
Review by clfisha
16/06/2015
Cue lengthy but wonderful quote:<i>My name is Mary Katherine Blackwood. I am eighteen years old, and I live with my sister Constance. I have often thought that with any luck at all I could have been born a werewolf, because the two middle fingers on both my hands are the same length, but I have had to be content with what I had. I dislike washing myself, and dogs, and noise. I like my sister Constance, and Richard Plantagenet, and Amanita phalloides, the death-cap mushroom. Everyone else in my family is dead.</i>So starts the this highly atmospheric, disturbing gothic tale of mental illness. A story made disturbingly vivid by the memorable narrator Mary who toes the line between a worrying childlike simplicity and a sharp adult perception.Jackson expertly uses the 1st person to ensnare our empathy and twist the tale so to fit Mary's point of view. It is very hard to break away from Mary, to view other characters and actions without her taint, an unsettling feat to achieve. Small things menace and odd actions soothe and then everything gets very very tense.The mental illness depicted in the novel is uncomfortably realistic seemingly echoing Jackson's own neurosis and if the end (minor SPOILER alert!) is an agoraphobics flight of fancy well that's what a unreliable narrator is for and makes the tale even more creepy.I can't highly recommend this enough, although I cant pin down why I haven't given it 5 stars (slight SPOILER!), maybe it's because I was misled to be believe there was a twist but lets face it it's all quite obvious.
Review by eleanor_eader
16/06/2015
This is compelling reading – the character of Merricat is persuasive, intriguing, as are the circumstances surrounding the decimation of her family. She's amoral, wilful, yet bound by rules of her own devising. Her wild devotion to her sister Constance (so appropriately named) and her inept 'kindnesses' to her Uncle Julian keep her endeared to the reader, even while she wishes vile death on intruders and starers and strangers. Her narrative weaves a magic spell around the Blackwood family home, drawing in the reader, until we join her in hoping that her strange barricades will hold.When the women's cousin, Charles, comes to stay, with one eye on Constance and the other on the safe in the study, Merricat's odd reactions and devices mingle with increasing revelations about herself, her family and the 'last day'. Among other carefully revealed, sinister titbits is that, for all his careful notes, Julian has disregarded his youngest niece from his recollections, claiming that she died of neglect in an orphanage during the trial.This is a psychological drama, in the finest Gothic tradition; the relationships, the peculiarities, are all part of some formula that allows Shirley Jackson to build tension among mundane kitchen chores or seemingly benign oddity of character, giving the whole story a fraught quality that makes the reader keep turning pages even when she ought *cough* to be doing something else entirely. I didn't enjoy it quite as much as <i>The Haunting of Hill House</i>, but only because I understood Eleanor better than I did Merricat.
Review by isabelx
16/06/2015
Fridays and Tuesdays were terrible days, because I had to go into the village. Someone had to go to the library, and the grocery; Constance never went past her own garden, and Uncle Julian could not. Therefore it was not pride that took me into the village twice a week, or even stubbornness, but only the simple need for books and food."We Have Always Lived in the Castle" is narrated by 18-year-old Mary Katherine Blackwood, six years after four members of her family were poisoned at the dinner table. Now the remaining members of the family, Mary Katherine, her older sister Constance (who was tried and acquitted of the murders), and their Uncle Julian, live a cloistered existence at Blackwood Farm. A few old friends still come to see them, but they are ostracised by the villagers, who had it in for the family even before the murders.This is a really eerie story; none of the remaining Blackwoods are exactly stable, and you are kept wondering which of them was the poisoner, but you are also on their side against the relentlessly hostile villagers and scheming Cousin Charles.I started reading it on the train yesterday, and finished it in bed last night.
Review by Carpe_Librum
16/06/2015
We Have Always Lived In The Castle was written by Shirley Jackson and published in 1962, and was one of Time Magazine's 'Ten Best Novels' of 1962.Essentially a story about the Blackwoods who suffered a mass poisoning which killed several of their family members around the dinner table one night during dessert. Constance was tried but acquitted of the crime, and together with her younger sister Merricat, live with their Uncle Julian in the house where it all took place. The family are hated by the villagers and isolate themselves from all outsiders.It is interesting to note that the author suffered from agoraphobia and has admitted that Constance and Merricat were fictional versions of her own daughters. This is where the interest ends for me though.This short novel was strange and I never really 'got it'. Merricat's narrative was dreamy and unreliable at times. At one stage I thought that perhaps Merricat was a ghost, or maybe they were all ghosts, but now I don't think so. One of my favourite authors Stephen King lists Shirley Jackson as one of his literary influences and her book The Haunting Of Hill House as one of the finest horror novels of the late 20th century. Perhaps I should have read that instead.
Review by mrn945
16/06/2015
I think most people read Shirley Jackson's The Lottery in high school; I know we did. After that though, I didn't come across her again for years, until one day I was on Amazon and saw that We Have Always Lived in the Castle was on sale. I loved The Lottery, so I figured I would give another one of her work's a try. I cannot believe I waited so many years to read her again!!Simply put, We Have Always Lived in the Castle is a classic for a reason! Merricat is possibly one of the most fascinating characters I have ever read. Wandering around the old house with her sister Constance and the cat, she seems to occupy a space that is her's alone. There is something faintly sinister about her polite facade, and you can just picture sharp teeth behind her sweet words and smile. Every word that comes out of her mouth is fascinating. I particularly enjoyed the tension during her interactions with her sister; there is a fine line between love and hate, which is never more present than in familial relationships!I don't want to give away the secrets or ending, in case someone has waited to read it like I did. I will just say that the ending was shocking, and well worth the build-up. I cannot recommend this book more highly!
Also in the Penguin Modern Classics series | View all