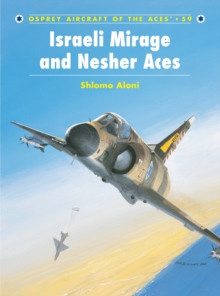 Israeli Mirage III and Nescher Aces
Paperback / softback
Description
Israeli delta fighter pilots have been credited with almost 300 kills between 1966 and 1974, and dozens of them became aces.
The Israeli aerial kill rate and overall air-to-air performance was phenomenal.
Although the Israeli pilots were flying Mach 2 fighters, they lacked any modern radar equipment and their MiG-21 flying opponents should have had a performance edge over them.
Engagements were essentially World War 2 style dogfights fought with jet aircraft and because neither side had the combat edge to disengage at will most engagements were a die or survive struggle.
In this theatre the introduction of air-to-air missles and the Israeli nesher was to prove decisive.
This book contains rare first-hand accounts from a number of the aces, plus material from combat reports which have remained classified since the 1970s.
Information
Format: Paperback / softback
Pages: 96 pages, 140 illustrations, (40 colour )
Publisher: Bloomsbury Publishing PLC
Publication Date: 18/02/2004
Category: Air forces & warfare
ISBN: 9781841766539
Also in the Aircraft of the Aces series | View all