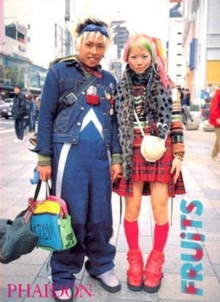 Description
This extensive collection of portraits represents a unique documentation of the changing face of street fashion throughout the last decade.
Colourful, fascinating and funny, this is the first time these cult images have been published outside Japan.
Information
Format: Paperback
Pages: 272 pages
Publisher: Phaidon Press Ltd
Publication Date: 06/01/2001
Category: Individual photographers
ISBN: 9780714840833
Other Formats
Paperback from £15.75
Cards from £9.75
Free Home Delivery
on all orders
Pick up orders
from local bookshops
Reviews
Showing 1 - 2 of 2 reviews.
Review by ThatsFresh
16/06/2015
Long before I started my obsession with everything Japanese, I spotted this colorful book from afar in my local bookstore. I walked up, flipped through a few pages, and thought that probably many first timers think when they see this book, "OMG [even though I don't think 'omg' was even around yet in 2001], they are so cool! I wonder if people actually dress like that everyday there….". I put it down ($25!?! For a picture book!?!), and walked away. Over the next 3 or 4 years, I'd flip through it every time I went to the bookstore, often seeking it out, just so I could gaze at all those cool Japanese street fashions. And as those years passed, my interest in Japan (which had been present my entire life, but was rapidly expanding) grew, and I soon dubbed FRUiTS by bible. It's funny to look back and wonder why it took me so long to actually buy the book, now I have an addiction to buying books and a $25 price tag rarely stands in my way. After buying it, I discovered many others were like myself, and also flipped through it at the store, some eventually buying it. One day someone brought it to school and for 30 minutes, a whole group of us stood around it quickly flipping through the entire book pointing out all the craziness inside. One year, I was in the bookstore and my eye caught on a beam of light on the table next to me. It was FRESH FRUitS, and it only took me .0001 seconds to pick it up and buy it. Inside the book, I read that the street fashions of Tokyo displayed in the pictures was a dying trend, and that teenagers were dressing less theatrically in recent years. I was devastated by this news and couldn't believe a culture that I had dreamed of witnessing was dying at that very moment. A year or two later, in the summer of 2006, I spent a day in Tokyo (in-between flights from Bali to San Francisco) and knew I was going to spend it in Harajuku. Much to my surprise and glee, not only was nearly every woman in Tokyo dressed up (in some ultra-hip way), but the boys and girls of Harajuku were alive and kicking. The stores radiated with the likes of modern attire, and everywhere you looked, there was a classic FRUiT. And just by recognizing all the backdrops in the book, I was able to find my way to the Gap, where I knew so many FRUiT pictures had been taken. I took a picture of me sitting on the steps, thinking "This is the closest I'll ever be to the book", but it got better. Pretty soon, I noticed some photographers on the sidewalk. They walked up to a girl, and started talking to her. In no time, they were setting up a picture of her and later, had her filling out a little form on a clipboard. They did the same thing with a group of buys sitting on a bench, all wearing some punk clothing. I walked up to the woman who looked in charge and asked her with a huge smile on my face, "Are you FRUiTS?". She said yes, and I told her (in English that I'm sure she only have understood, based on the slightly confused/humored look on everybody's faces) that I loved FRUiTS and so did everyone I knew in America. I asked them if a third book was going to come out (she didn't quite understand), but I did find out that they were doing a magazine currently of cool hairstyles. I left Tokyo later that day, and on the plane ride home, I couldn't believe that I had actually spotted FRUiT photographers on the streets of Harajuku. I had come a long way from flipping through the pages of the first book, not even knowing the pictures were taken in Harajuku (a district I didn't even know existed, since I didn't even know Tokyo had districts). I love FRUiTS, for all it's glossy pages, fluorescent colors and stunning outfits. But most of all, I love FRUiTS for that great, odd, fishy like smell that you take in every time you open a page.
Review by Nikkles
16/06/2015
Great pictures! As someone who love to dress differently myself, it was also very inspirational. Lots of fun outfits to be seen on the streets of japan!
Also by Shoichi Aoki