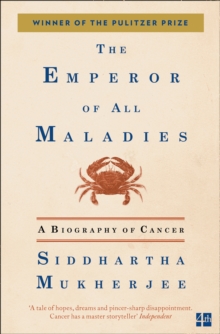 The Emperor of All Maladies
Paperback
Description
Winner of the Guardian First Book Award 2011Winner of the Pulitzer Prize for Non-fiction 2011Shortlisted for the Duff Cooper Prize 2011Shortlisted for the Wellcome Trust Book PrizeIn The Emperor of All Maladies, Siddhartha Mukherjee, doctor, researcher and award-winning science writer, examines cancer with a cellular biologist's precision, a historian's perspective, and a biographer's passion.
The result is an astonishingly lucid and eloquent chronicle of a disease humans have lived with - and perished from - for more than five thousand years.The story of cancer is a story of human ingenuity, resilience and perseverance, but also of hubris, arrogance and misperception, all leveraged against a disease that, just three decades ago, was thought to be easily vanquished in an all-out `war against cancer'.
Mukherjee recounts centuries of discoveries, setbacks, victories and deaths, told through the eyes of predecessors and peers, training their wits against an infinitely resourceful adversary.From the Persian Queen Atossa, whose Greek slave cut off her malignant breast, to the nineteeth-century recipient of primitive radiation and chemotherapy and Mukherjee's own leukemia patient, Carla, The Emperor of All Maladies is about the people who have soldiered through toxic, bruising, and draining regimes to survive and to increase the store of human knowledge.Riveting and magesterial, The Emperor of All Maladies provides a fascinating glimpse into the future of cancer treatments and a brilliant new perspective on the way doctors, scientists, philosophers and lay people have observed and understood the human body for millennia.
Information
Format: Paperback
Pages: 400 pages
Publisher: HarperCollins Publishers
Publication Date: 01/09/2011
Category: Oncology
ISBN: 9780007250929
Other Formats
EPUB from £6.99
eAudiobook MP3 from £25.19
Paperback from £8.65
Free Home Delivery
on all orders
Pick up orders
from local bookshops
Reviews
Showing 1 - 3 of 3 reviews.
Review by wyvernfriend
16/06/2015
This was a bit of a tough read, not because it was badly written or written in a highly scientific manner obscuring the discussion with wodges of data, but because it stirred up a lot of my issues with cancer and my relationship with it. People who know me know I had cancer, Hodgkin's Lymphoma to be exact and I survived chemotherapy, to see the drugs mentioned, their sources, the fact that people have been treated successfully for this cancer since 1969 came as a bit of a surprise. Seeing the path to the multiple-drug treatment that I went through (AVBD if you want to know) being developed struck me deeply and made me a little twitchy and I had to read several light fiction titles to distract me. It's an interesting read, the history of cancer, some possible historical examples, some of the personalities involved, particularly from the US, some of the links on the chain that are being discovered and some of the treatments attempted over the years.I found it compelling, interspersed with tales of his own work and experiences in Oncology, he's familiar with the topic, and does do a sucessful job (in my opinion) of creating a biography of the multifaceted monster that is cancer.Worth a read.
Review by alexrichman
27/08/2015
An impressively detailed - if occasionally dry - story of the dreaded disease, from its first recorded discoveries to the present day. It's filled with twists and turns, false starts and breathtaking breakthroughs - and thankfully, in the end it's a book filled with hope for the future.
Review by Widsith
27/08/2015
I've been wanting to read this since it first appeared, but I was just too nervous. Call it superstition. This is far scarier than any of your Barkers, your Kings or your Koontzes: there are no such things as zombies or bogeymen, but cancer is out there. Waiting for us.In <i>The Great War and Modern Memory</i>, Paul Fussell talks a lot about the <i>irony</i> of the First World War. Cancer, in the same way, is a deeply ironic disease. As Peyton Rous said, 'Nature sometimes seems possessed of a sardonic humor.'The ability cancer cells have to reproduce themselves is the same biochemical magic that normal cells use to self-replicate; it's the whole reason we're alive. Cancer has weaponised our own life force; its 'life is a recapitulation of the body's life, its existence a pathological mirror of our own.'Similarly cancer rates have gone up, in historical terms, not because there are more carcinogens but because (more irony) we are living longer.<i>Civilization did not cause cancer, but by extending human life spans – civilization <i>unveiled</i> it.</i>Now that so many people are surviving into their seventies and eighties, cancer has a better chance to pull off its mask – like a Scooby-Doo villain – to reveal that it was lurking there inside us all along. And I would have gotten away with it, too, if it wasn't for you pesky oncologists.So this book <i>is</i> frightening, and you do have to brace yourself to read endless variants on the phrase 'unfortunately it had metastasized inoperably into her liver and brain' over and over again; however, balancing this terror is the very real intellectual thrill of following the generations of doctors and scientists who have tried to understand and fight the disease.The fight has got a bit more sophisticated than it used to be. Not a lot, but a bit. The prevailing approach for a long time was that pioneered by William Halsted, who insisted on (literally) 'radical' surgery to cut out as much tissue as physically possible, in order to maximize the chances of removing all the cancerous cells. One disciple, for instance, 'evacuated three ribs and other parts of the rib cage and amputated a shoulder and a collarbone from a woman with breast cancer'. Gradually, advances in biochemistry and, latterly, genetics, have allowed for more targeted non-surgical solutions, although so far only really for certain specific cancers.In fact the most progress has been made not in dealing with cancer, but in avoiding it in the first place. Anti-smoking campaigns, lifestyle advice, along with Pap smears and other screening programmes, have been very successful at least in the West (elsewhere, things are going backwards in many cases). Once it actually develops, your options remain fairly limited, and the metric of success is still often how many years of remission one can hope for, rather than the chances of an outright 'cure'. Mukherjee is thorough with his story and writes pretty well, although the focus is very much on the American scene, with researchers from Europe and elsewhere sometimes dealt with in a cursory fashion; at one point he even describes France and England as lying on the 'far peripheries' of medicine! He also goes a bit overboard with his literary credentials, bookending every chapter and section with multiple epigraphs from poets and other thinkers. It's not clear how well he understands his sources here, though, especially when you see that he's dated Burton's <i>Anatomy of Melancholy</i> to 1893, when Burton had been dead for two hundred and fifty years.Still, this is overall a very rich and rewarding book, full of scientific discovery and packed with historical detail. It's a thriller, it's a sci-fi, it's a horror story. Let's just hope that future editions have even more to report in the way of progress.