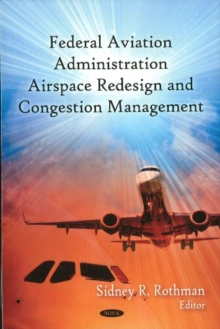 FAA Airspace Redesign & Congestion Management
Hardback
Description
Aviation congestion and delay is an issue of long standing.
Statistically, there was a significant increase in congestion and delay throughout the national aviation system in 2007.
The situation has been especially noticeable at certain key airports, namely the New York region in general and John F.
Kennedy International Airport (JFK) in particular. The Department of Transportation (DOT) and its operating agency, the Federal Aviation Administration (FAA), have promised to take actions aimed at reducing congestion and delay both in the short and long terms.
In the short term, DOT is proposing to address the JFK situation through administrative and economic measures that would likely restrict or otherwise provide for the allocation of flights into the airport during specific periods of time.
In addition to the proposals likely to be made by DOT, there are other potential near-term fixes that can be considered to add system-wide capacity to the aviation system.
These include, but are not limited to: airspace redesign, use of military airspace, and airspace flow control.
Over the longer term the FAA is primarily relying on modernisation of the air traffic control system through the Next Generation Air Transportation System (NGATS or NextGen) and the creation of new airport infrastructure to provide major reductions in aviation congestion and delay, although a recent FAA capacity needs study has concluded that these enhancements are needed immediately, especially in the New York region.
Regulation of the national air transportation system is legally the domain of the federal government.
The operation and ownership of airports, however, is provided primarily by regional, state and local entities.
Free Home Delivery
on all orders
Pick up orders
from local bookshops