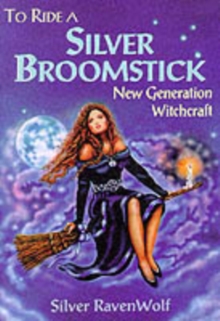 To Ride a Silver Broomstick : New Generation Witchcraft
Paperback
Description
Throughout the world there is a New Generation of Witches - people practicing or wishing to practice the Craft on their own, without an in-the-flesh magickal support group. "To Ride a Silver Broomstick" presents both the science and religion of Witchcraft so you can become an active participant while growing at your own pace.
This book is ideal for anyone, regardless of religious background: male or female, young or old, beginners and initiates.
Information
Format: Paperback
Pages: 320 pages, ill
Publisher: Llewellyn Publications,U.S.
Publication Date: 31/12/1994
Category: Magic, spells & alchemy
ISBN: 9780875427911
Free Home Delivery
on all orders
Pick up orders
from local bookshops
Reviews
Showing 1 - 5 of 6 reviews.
Previous | Next
Review by bluetyson
16/06/2015
This is perhaps an overly simple introduction to the whole wicca thing. Depending on the cover of the edition you bought, it might seem that new generation witches do still ride broomstocks, which is pretty funny. Presumably this is intentional on her part to suck people in to picking it up and having a look.
Review by Ragnell
16/06/2015
The money I spent on this book would been better spent on a book that was actually informative. Instead, I have a paperweight with a pretty cover.
Review by evethejust
16/06/2015
I've bought two of this author's books and regret the money spent on both. I also resent the space they take up on my shelf. In both books she comes off like the typical flaky, contradictory and bizarre kind of person that the media always seems to be able to find whenever they need to do a bit on Wiccans. You know, that person that we see on the news and think "oh gods above, of all the people they could have chosen to speak to, why him/her?"Scott Cunningham's books drew me to Wicca many years ago. Sadly, most other authors, including this one, have driven me away.
Review by lilinah
16/06/2015
A lousy introduction to modern neoPagan Witchcraft. The information is not well organized, and while it is ostensibly aimed at the young who are new to it all, it is a mishmash of beginner stuff with advanced stuff randomly inserted. Not long after it was published i began writing an annotated critique, but quit because it became such a long enumeration of its flaws and errors. I most certainly would not give this typical Llewellyn junk to a beginner.
Review by jayble
16/06/2015
This book is a classic and one of the first I recommend for people who are interested in learning about Wicca. She approaches the subject in a conversational tone, but with some of the best information available for those interested in learning about the religion. While occasionally, her writing tone comes across as condescending, for the most part it is a great book with invaluable information.