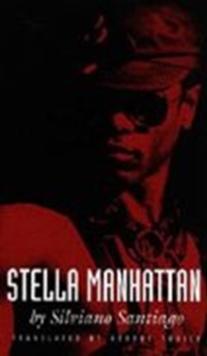 Stella Manhattan
Hardback
Description
Twice the winner of the Brazilian national book award, Silviano Santiago caused a sensation in 1985 with the publication of Stella Manhattan, a story of sexual scandal and political intrigue.
Set in the Brazilian exile community in New York City in the late 1960s, this noir novel is an electrifying adventure story of a young gay Brazilian man trying to make a go of it in New York.
After being forced from his native country by an unforgiving father who embodies the authoritarian temper of the Brazilian dictatorship and is embarrassed by his son's homosexuality and transvestism, Stella Manhattan, alter ego of Eduardo da Costa e Silva, lands a job in the Brazilian consulate with the help of his father's friend, Colonel Valdevinos Vianna.
Eduardo is also recruited by Vianna to help him bring his own alter ego, the sadomasochist Black Widow, out of the closet.
Transformed by black leather, the Black Widow cruises the streets and bars of New York in search of American flesh.
Surrounding the relationship between these two men is a group of Brazilian guerrillas who attempt to press Eduardo into their service in order to entrap the colonel.
The guerrillas are at the center of a network of revolutionaries, from the Cubans to the Black Panthers and the Young Lords.
Virtually apolitical, Eduardo/Stella is drawn by desire into the conflict between the Brazilian government and its communist opposition.
Eduardo also gets caught in the designs of other memorable characters of various sexual and political persuasions: the reactionary professor Anibal, confined to a wheelchair, who enjoys watching his wife Leila make love with men she picks up on the street; and Paco, alias La Cucaracha, a flamboyant queen, a rabid anti-Castro Cuban exile, and the most sympathetic of this gallery of outcasts.
Working through two complex themes-politics and sex-Santiago sets the action in New York to emphasize the interaction of the seemingly contradictory impulses of liberation and Americanization that Brazil underwent in the late 1960s.
As in Manuel Puig's Kiss of the Spider Woman, political and sexual liberation cut two ways-neither one necessarily compatible with the other.
Exploring the complexities of repression that affect all forms of identity, Santiago mingles tragedy and farce as international intrigues are played out in New York's Latino and black neighborhoods, and the genteel world of international diplomacy is thrust into the milieu of urban gay street life.
Information
Format: Hardback
Pages: 224 pages
Publisher: Duke University Press
Publication Date: 01/06/1994
ISBN: 9780822314868
Other Formats
Paperback / softback from £17.59
Free Home Delivery
on all orders
Pick up orders
from local bookshops
Also by Silviano Santiago