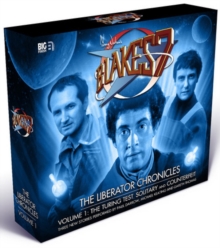 The Liberator Chronicles : Volume 1
CD-Audio
Part of the Blake's 7 series
Description
Blake's 7 centred on Roj Blake (Gareth Thomas) and his band of freedom fighters, who escaped imprisonment on the penal world of Cygnus Alpha and stole The Liberator, the fastest, most advanced spaceship in the galaxy.
Volume 1 comprises three brand new stories performed by stars from the show.
THE TURING TEST. Avon and Vila go undercover at a top secret research establishment.
SOLITARY. Vila is alone and amnesiac. Why have his friends turned against him? COUNTERFEIT. Blake investigates a mining facility, unaware that his sworn enemy is close by...
Information
Format:CD-Audio
Publisher:Big Finish Productions Ltd
Publication Date:29/02/2012
Category:
ISBN:9781844356249