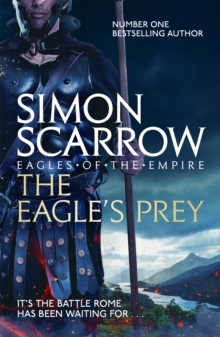 The Eagle's Prey (Eagles of the Empire 5)
Paperback
Part of the Eagle series
Description
IF YOU DON'T KNOW SIMON SCARROW, YOU DON'T KNOW ROME!THE EAGLE'S PREY is the thrilling fifth novel in Simon Scarrow's bestselling Eagles of the Empire series.
A must read for fans of Bernard Cornwell and Conn Iggulden.
Praise for Simon Scarrow's gripping historical novels: 'Ferocious and compelling' Daily ExpressBritannia, AD 44.
The time has come to claim Britain for the Empire. Centurions Cato and Macro are preparing for what their leaders say will be the final battle against those natives refusing to accept the civilising force of Rome.
The British savages will surely stand no chance against the might of the unstoppable Roman army.But young Cato is more concerned about hot-headed cohort commander, Maximius, than about the enemy, and with Roman troops being brutally slaughtered, even grizzled veteran Macro is having doubts about the promised ease of their success.
Will they be victorious - or will the battle cost both of them more than they could ever imagine?
Information
Format: Paperback
Pages: 480 pages, Maps
Publisher: Headline Publishing Group
Publication Date: 28/12/2017
ISBN: 9780755349999
Free Home Delivery
on all orders
Pick up orders
from local bookshops
Reviews
Showing 1 - 3 of 3 reviews.
Review by JGolomb
16/06/2015
"The Eagle's Prey" is Simon Scarrow's solid fifth volume in his "Eagle" series focused on roman military adventures in the early first century, AD. This is not the best of Scarrow's series, but it's an entertaining story of well-written action sequences held together by a reasonably solid, if not unique and totally cohesive, plot.If you're new the adventures of now-Centurions Macro and Cato, you should look to "Under the Eagle" (#1) and "The Eagle's Conquest" (#2) for the best in terms of character introduction and genuinely fun and detailed action/adventure. This book stands alone in a self-contained story with brief character introductions, but can't be enjoyed fully without having the foundation of the first two "Eagle" books.In "Prey", Macro and Cato are Centurions assigned to the 2nd Legion of the Roman Army. Led by Legate Vespasian (future Emperor), the 2nd is tasked with subduing native peoples in Britain in the mid first century, AD. Both are in their second seasons of campaigning on the Isle and look forward to the endgame in putting down what appears to be their primary foe in the barbarian Caratacus. Both Cato and Macro end up implicated in the 2nd's failure to contain Caratacus, and find themselves fighting an upstream battle against their superiors in a three-part conflict that's a running theme throughout Scarrow's series: 1) do what's moral and right; 2) do what's proper as a Roman legionary and for Rome; 3) minimize the personal and professional damage while often going against the grain."Prey" is a fine book…the story moves along swiftly and the characters have that familiarity like a cousin that was close when you were younger but whom you now only see 3 or 4 times a year. That familiarity is borne from their growth throughout Scarrow's series, but also because their characterizations are a bit flat and predictable.All of the "Eagle" books have a tv-movie feel. Think about the original "Star Trek" or "Star Trek – The Next Generation"…they were both cutting edge in their own rights, but at the end of the day they were built on TV budgets and to fit in TV schedule lengths. Compared against the stronger or newest Star Trek films, they appear a little shallower in production and storyline. Following the analogy, I'd compare of Scarrow's "Eagle" to TV Star Trek as compared to deeper and more emotive film "Gladiator".I've found that I genuinely enjoy picking up the next story in the ongoing saga of Cato and Macro. I look forward to peeling back the next layer of their personalities, and uncovering the next chapter in their journeys in the Roman Army. Overall, I recommend this book.
Review by nicky_too
16/06/2015
Once again a brilliant book by Simon Scarrow. The previous book, The Eagle and the Wolves, was quite a surprise for me. I thought it was exciting and thrilling and I was worried 'the next book' wouldn't be as good. Quite frankly, it isn't, but it's damn close! I don't know how he does it, but Simon Scarrow manages to get the two Romans (Macro and Cato) into bigger trouble every time. Even more amazing: he also manages to get them out of it. I'm impressed with the man's imagination; I even find his solutions to their problems believable. Of course it helps that I know next to nothing about the Romans to begin with.Just like the previous books: plenty of battle, intrige, blood and gore. Just my kind of thing!
Review by neurodrew
16/06/2015
Another day, another novel on the Kindle. I have been unable to do much except escape from my daily concerns by becoming involved in the lives of Cato and Macro, Roman Centurions. They are led to disaster by an old centurion who allows revenge to deflect him from defending a ford. Cato is selected for decimation, but saved by Macro. Cato then leads the other condemned men to find the British rebel, Caratacus, and eventually captures the Briton.