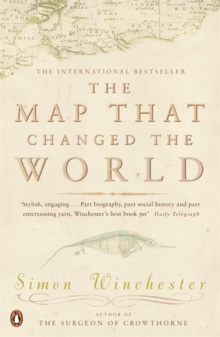 The Map That Changed the World : A Tale of Rocks, Ruin and Redemption
Paperback
Description
Following the hugely successful hardback, this extraordinary tale of the father of modern geology looks set to be the non fiction paperback for 2002.
Hidden behind velvet curtains above a stairway in a house in London's Piccadilly is an enormous and beautiful hand-coloured map - the first geological map of anywhere in the world.
Its maker was a farmer's son named William Smith. Born in 1769 his life was beset by troubles: he was imprisoned for debt, turned out of his home, his work was plagiarised, his wife went insane and the scientific establishment shunned him.
It was not until 1829, when a Yorkshire aristocrat recognised his genius, that he was returned to London in triumph: The Map That Changed the World is his story.
Information
Format: Paperback
Pages: 352 pages
Publisher: Penguin Books Ltd
Publication Date: 01/07/2002
ISBN: 9780140280395
Free Home Delivery
on all orders
Pick up orders
from local bookshops
Reviews
Showing 1 - 4 of 4 reviews.
Review by tripleblessings
16/06/2015
This biography of William Smith tells the compelling story of the geologist who worked for 20 years to produce the first geological map of Britain, a world first. He was not rich or well-connected, and struggled for recognition. His wife went mad, his work was stolen by jealous colleagues and he was imprisoned for debt. His work marked the beginnings of geology as a modern science. The book is very readable, an excellent popular history, and well illustrated.
Review by Noisy
16/06/2015
Hagiographical? Frankly, I don't care. I luxuriated in this book. Call me old-fashioned, but this is the style of writing that hits all the right buttons with me. It put me in mind of Michael Innes, a writer of detective fiction from the middle of the 20th century who wrote in a very formal way: his prose was beautiful, and Simon Winchester's style is very similar. I contrast it with the output of Hal Duncan - the writer of "Vellum" - which is that of someone who's experimenting ... and failing. It's taken me a while to finish the book, so it's not the sort that sucks you in. To an extent, the subject matter is a bit sparse: there is a slight feeling of padding, such as the insertion of a semi-autobiographical chapter in the middle of the book in which Winchester recounts anecdotes which trace his interest in geology and the subject of the book: William Smith - "The Father of English Geology".Smith plied his trade of surveying; draining land; and giving advice to landowners on the likelihood of coal lying under their property in the early 19th century. He came from humble beginnings, but quickly made a name for himself, while working in Somerset, such that he was employed throughout the land. His early jobs in coal mines gave him the opportunity to notice the layers of rock within which the coal-bearing seams lay, and he used this knowledge to relate the surface rocks to the underlying structure of the earth. His travels across the country allowed him to extend this knowledge to provide a picture of the geological make-up of England and Wales which formed the basis for surveys for individual counties, and for the country as a whole. In particular, the occurrence of fossils in particular strata (he came to be known as 'Strata Smith') gave him the idea that the layers of rock were ordered by age, and that the age of rocks was very great. This conflicted with the prevailing religious idea of the biblical formation of the Earth, but the mood of the times meant that liberal interpretations were becoming more prevalent. These ideas presaged Darwin's work that was to follow. Smith's life was pretty up and down: he rubbed shoulders with the landed classes who employed him, and established a presence in London, but he always seemed to feel that he couldn't shake off his humble beginnings and be recognised for his contributions to the brand new science of geology. He was thrown into debtors' prison for a while, and this seemed to break his spirit and caused him to retreat from London. This was around the time that the map of the title had been published, but which failed to be the making of his reputation. He settled down to a reasonably quiet life, but recognition came to him in his retirement. This book places Simon Winchester as a "must buy" author for me, but I can certainly see that some may find his style too florid. I'd still recommend this book for everyone, as a portrait of the changing times in the first half of the 1800s, and it's a vital purchase for anyone who is interested in geology.
Review by Helenliz
16/06/2015
This is a nice pacy factual book that kept me occupied during 2 flights (no easy thing - not a happy flyer). It's one of those classic 18th century tales where there's science, religion, class, prejudice money and, out of the mess and shambles comes something that is really mind blowing. William Smith produced the first geological survey of the UK. All by himself. And a small version is reproduced on the inside front cover and it's a real thing of beauty - the colour, shading and texture is fabulous, as well as being remarkably similar to the British Geological Survey's edition of the 1990s that graces the rear cover. It's set during that great upheaval in science, when Britain finally moved from being a medieval belief led society to one that valued science, facts, precision, deduction and started wanting to ask questions of the natural world. this is one example. It was driven by his being involved in the coal mining industry, then in the routing and digging of a canal through Somerset. What he'd seen by the vertical descent into the ground of the mines was reinforced by what he'd seen in the cut made across miles of Somerset - the rocks beneath our feet are different, but predictably different in different places. It's got it's fair share of trials and tribulations, and the class system comes in for a fair old (and entirely justified) bashing, but Smith doesn't always seem to be the most astute of individuals. Even so, it's nice to see that he did finally get the recognition he deserved in his lifetime - even if he seems to have been largely forgotten since. Simon Winchester does write a good story, as well as managing to get some facts to stick in your brain at the same time. I thought this was a good read.
Review by pussreboots
16/06/2015
It was a very enjoyable and easy read. There are parts scattered throughout the book where the author tends to ramble and wander onto tangents. The book would have been stronger and tighter if the author had stayed on topic. The line drawings peppered through the book add a nice bit of visual detail but I would have liked to have seen even more of them used.