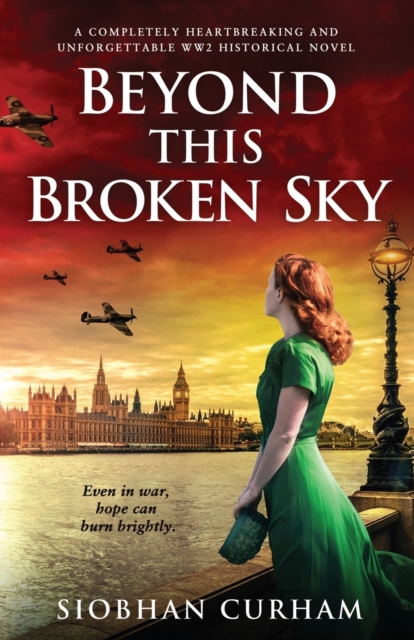 Beyond This Broken Sky : A completely heartbreaking and unforgettable WW2 historical novel
Paperback / softback
Description
940, London: An unforgettable novel about the strength of the human spirit in the face of war and the remarkable women who put themselves in danger on the front lines during the Battle of Britain.
As a volunteer for the ambulance service, Ruby has the dangerous task of driving along pitch-dark roads during the blackout. With each survivor she pulls from the rubble, she is helping to fight back against the enemy bombers, who leave nothing but destruction in their wake.
Assigned to her crew is Joseph, who is unable to fight but will stop at nothing to save innocent lives. Because he is not in uniform, people treat him with suspicion and Ruby becomes determined to protect this brave, compassionate man who has rescued so many, and captured her heart. Even if it means making an unthinkable choice between saving her own life and risking everything for his...
2019: Recently divorced Edi feels lost and alone when she moves to London to start a new life. Until she makes a discovery, hidden beneath a loose floorboard in her attic, that reveals a secret about the people who lived there in the 1940s. As she gradually uncovers a wartime love story full of danger and betrayal, Edi becomes inspired by the heroism of one incredible woman and the legacy that can be left behind by a single act of courage...
A sweeping tale of bravery and self-sacrifice that shows that even in the midst of war, hope and love can bloom. Perfect for fans of The Alice Network, The Secret Messenger and The Lost Girls of Paris.
Readers love Siobhan Curham:
'Heartbreaking... Gripping wartime drama... Will have your heart in your mouth.' French Village Diaries, ⭐⭐⭐⭐⭐
'Grabs readers from the beginning and won't let them go until they finish the last page... I loved absolutely everything.' Goodreads reviewer, ⭐⭐⭐⭐⭐
'Fantastic... You will love this book... I was immediately swept up.' Goodreads reviewer, ⭐⭐⭐⭐⭐
Information
Format:Paperback / softback
Pages:308 pages
Publisher:Bookouture
Publication Date:20/04/2021
Category:
ISBN:9781800194021
Information
Format:Paperback / softback
Pages:308 pages
Publisher:Bookouture
Publication Date:20/04/2021
Category:
ISBN:9781800194021