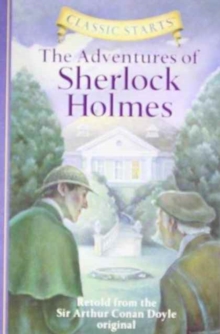 Classic Starts (TM): The Adventures of Sherlock Holmes : Retold from the Sir Arthur Conan Doyle Original
Hardback
Description
Following Sterling's spectacularly successful launch of its children's classic novels (240,000 books in print to date), comes a dazzling new series: Classic Starts.
The stories are abridged; the quality is complete. Classic Starts treats the world's beloved tales (and children) with the respect they deserve--all at an incomparable price.
No child is too young to appreciate the amazing deductive powers of the world's smartest detective.
These easy-to-read Sherlock Holmes stories provide the perfect introduction to the super sleuth and his friend and assistant, Dr. Watson. Among the intriguing tales: "A Scandal in Bohemia," Holmes's first encounter with the mysterious Irene Adler; "The Red-Headed League"; "The Adventure of the Six Napoleons" and others.
Information
Format: Hardback
Pages: 160 pages, black & white illustrations
Publisher: Sterling Juvenile
Publication Date: 01/03/2005
Category: Classic
ISBN: 9781402712173
Free Home Delivery
on all orders
Pick up orders
from local bookshops
Reviews
Showing 1 - 1 of 1 reviews.
Review by BookishRuth
16/06/2015
Classic Starts: The Adventures of Sherlock Holmes features abridged versions of six short stories by Sir Arthur Conan Doyle. The language is simplified for younger readers, but the essence of the original stories is not compromised. The book includes "A Scandal in Bohemia", "The Red-Headed League", "The Adventure of the Blue Carbuncle", "The Greek Interpreter" and "The Adventure of the Six Napoleons".There are several nice black and white illustrations to complement each story. My only criticism of the illustrations is that Watson seems too old. Dr. Watson was only a few years Sherlock Holmes' senior, but is depicted as much older in several screen adaptations. The illustrations in this book seem to be based more on the screen versions of the characters than the original Sidney Padget drawings. Padget's illustrations show the two men to be much closer in age. However, this is a very minor quibble on my part. The age difference will likely help young children differentiate between Holmes and Watson.The modern, easy-to-read language and abridged format in this book make these classic stories accessible to younger readers who may find the complex vocabulary or length of Sir Arthur Conan Doyle's original work too challenging. This w.ould be a great choice for a 7-10 year old who enjoys mysteries but might not be ready to tackle the Sherlock Holmes books on their own just yet. Classic Starts: The Adventures of Sherlock Holmes also includes discussion questions to help broaden the reader's understanding of the stories.
Also by Sir Arthur Conan Doyle | View all
Also in the Classic Starts series | View all