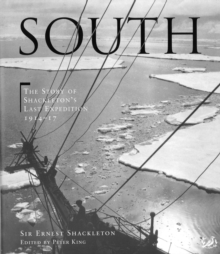 Description
Shackleton's South is one of the great books of exploration.
Written by a national hero, about what he called 'the last great journey on earth' - his Antarctic expedition in which his ship, the Endurance, was crushed by the ice, and he and his men made a 600-mile trek across ice and ocean to solid land.
They then embarked on a 700-mile journey in an open boat to South Georgia, followed by an epic crossing of the uncharted mountains of that island.
His account is superbly written, and the book has never ceased to enthral readers since it was first published in 1919.
Since that time, however, Shackleton's life - and his account of the expedition - have been dramatically revalued by scholars and biographers, and it emerges that South conceals much of the truth about his great feat.
In this edition Peter King, who has examined the latest research on the entire episode, presents in his additional notes a much more detailed picture of what really occurred. The major defects in Shackleton's organisation, the inadequate finances, the lack of training provided for his crew in the handling of skis, sledges and dogs, Shackleton's personal problems (which were considerable), the failure to provide proper supplies of food - these and many other details are explained, and give a fascinating background to what remains a magnificent drama of leadership.
In addition, the book contains over a hundred beautifully produced photographs by Frank Hurley, the official photographer of the expedition as well as other contemporary illustrations.
The explanatory captions, and the maps charting the course of the expedition, enable readers to follow Shackleton's account almost as it they were present themselves.
Information
Format: Paperback
Pages: 208 pages
Publisher: Vintage Publishing
Publication Date: 04/11/1999
Category: Biography: general
ISBN: 9780712664127
Other Formats
Paperback from £7.09
Hardback from £17.19
Free Home Delivery
on all orders
Pick up orders
from local bookshops
Reviews
Showing 1 - 1 of 1 reviews.
Review by AlCracka
16/06/2015
I read this casually, a little at a time. It's one of the great adventure stories of all time, and smashing stuff (get it?) but...here's how it works: it's based on the journals of Shackleton and everyone else in his party - he gives others lots of time too - and the entries can be a little repetitious. Like, y'know, "Still stuck on an iceberg. Cold and hungry." <br/><br/>Shackleton's a surprisingly good writer, though. Clear, engaging and often funny. That livens up the doldrum periods - but also, the effect of the long passages in which nothing dramatic happens is that when something does happen, it happens with extraordinary, direct impact. His account of - minor spoiler, I guess? - the final destruction of the Endurance is just crushing. An incredibly powerful moment. The immediacy of the epistolaryish format, with its you-are-here feel, makes the big moments of the expedition directly heartbreaking.<br/><br/>After his account of the main expedition, he starts completely over with what happened with the other boat, the Aurora. (You will have forgotten they exist by this time.) This is a tough one; it's just as compelling a story - they actually had it <i>worse,</i> if you can believe that, and again it's based on journals so it has that you're-right-there! feel to it, but there's no avoiding the fact that, having slogged all the way through Shackleton's brutal story, you groan a little when you realize you're about to start over.<br/><br/>I guess I'd suggest laying it aside and picking it up later for this part. It is much shorter, at least. And it's much shorter even than it looks, because after the story of the Aurora's landing party (again, this really is great stuff on its own), Shackleton backtracks <i>again,</i> to the people who stayed on the Aurora, and that part is utterly skippable. Nothing whatsoever happens. I read it so you don't have to. Just stop there.
Also by Sir Ernest Henry Shackleton | View all