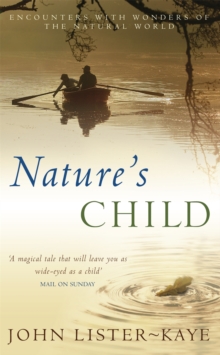 Nature's Child
Paperback / softback
Description
As I write Hermione's twelfth year is drawing to a close.
The years of innocence are waning. But we have had the good fortune to live through a period when a child's mind is wide open and as absorbent as a sponge.
Blessed years of exploration and discovery, fat and full of the natural world, which surrounds her here ... the mountains and forests and ospreys, eagles, otters and pine martens of a beautiful land.' NATURE'S CHILD is John Lister-Kaye's account of bringing up his daughter to appreciate the nature around her so beloved to himself.
It is also a moving meditation on that world, and on their relationship, as he shows her how caterpillars metamorphose into moths; how beavers build dams in Norway; how half a million sea birds migrate to Shetland once a year to breed; how white rhinos behave in the wilds of Swaziland; how baby polar bears are raised on an archipelago in the Arctic Ocean.
As John puts it: 'Life is a collection of fragments of time charged with deeply personal sensation and meaning ... we had watched polar bears for a few minutes, but the recollection of those images are locked in for life.
What is love if not time given in joy and delight?
Information
Format:Paperback / softback
Pages:208 pages
Publisher:Little, Brown Book Group
Publication Date:03/03/2005
Category:
ISBN:9780349117607
Also by Sir John Lister-Kaye