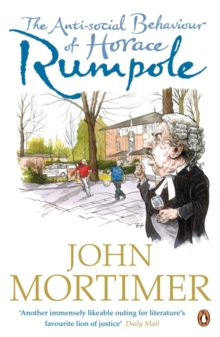 The Anti-social Behaviour of Horace Rumpole
Paperback
Description
The Anti-social Behaviour of Horace Rumpole - a delightful novel starring John Mortimer's iconic character 'One of the great comic creations of modern times' Evening Standard ASBOs may be the pride and joy of New Labour, but they don't cut much ice with Horace Rumpole - he takes the old-fashioned view that if anyone is going to be threatened with a restriction of their liberty then some form of legal proceeding ought to be gone through first.
Not that Hilda agrees, of course, but she's too busy completing her memoirs to dissuade him from taking an interest when one of the Timson children is given an ASBO for playing football in the street. And pretty soon he realizes something fishy is going on.
Why are the residents pursuing their vendetta against the Timson boy quite so strongly?
Could they have a sinister reason for not wanting him on their street? John Mortimer's hilarious Rumpole novel, which fans of Sherlock Holmes and P.G.
Wodehouse will love, sees the magician of the Old Bailey at his unpredictable and brilliant best. Sir John Mortimer was a barrister, playwright and novelist. His fictional trilogy about the inexorable rise of an ambitious Tory MP in the Thatcher years (Paradise Postponed, Titmuss Regained and The Sound of Trumpets) has recently been republished in Penguin Classics, together with his autobiography Clinging to the Wreckage and his play A Voyage round My Father.
His most famous creation was the barrister Horace Rumpole, who featured in four novels and around eighty short stories.
His books in Penguin include: The Anti-social Behaviour of Horace Rumpole; The Collected Stories of Rumpole; The First Rumpole Omnibus; Rumpole and the Angel of Death; Rumpole and the Penge Bungalow Murders; Rumpole and the Primrose Path; Rumpole and the Reign of Terror; Rumpole and the Younger Generation; Rumpole at Christmas; Rumpole Rests His Case; The Second Rumpole Omnibus; Forever Rumpole; In Other Words; Quite Honestly and Summer's Lease.
Information
Format: Paperback
Pages: 208 pages
Publisher: Penguin Books Ltd
Publication Date: 03/07/2008
Category: Crime & mystery
ISBN: 9780141030647
Free Home Delivery
on all orders
Pick up orders
from local bookshops
Reviews
Showing 1 - 1 of 1 reviews.
Review by Vivl
16/06/2015
3.5 stars means this just scrapes onto my "keep" list. Rumpole is his usual self, defending those widely-held to be indefensible, struggling under the yoke of She Who Must Be Obeyed's ambition and continuing his anti-social behaviours, to the predictable annoyance of his fellows in Chambers. The Bull is unpleasant in new and disturbing ways, the mysteries are fun, of course Rumpole comes out on top in the end, and, while not a laugh a minute, the chuckles appear quite regularly (unlike the number 11 bus, apparently.) Rumpole's anti-establishment grumbles are kept up to date, with ASBOs, people smuggling and global warming featuring as themes. So why not more stars? Basically because a) it was just nice, nothing amazing, and b) this is a mild and vague spoiler so stop here if you wish..............unlike in your average Rumpole story/novel, where the actual perpetrator is revealed in the end thanks to Rumpole's perseverance and truck-loads of luck, in this case we are left without the actual criminal being revealed. I felt a bit deflated by that. It's minor, I know, but there you go.