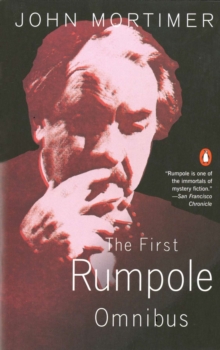 The First Rumpole Omnibus
Paperback
Description
The First Rumpole Omnibus - a classic collection of John Mortimer's iconic character'One of the great comic creations of modern times' Evening Standard'Rumpole, like Jeeves and Sherlock Holmes, is immortal' P.
D. James, Mail on SundayWho rose to enduring fame on Blood and Typewriters, told the pregnant Portia of the Chambers it would come out in the end, advised Guthrie Featherstone, Q.C. to adopt a more judicial attitude, returned in the tender gloaming of each evening - via Pommeroy's and a glass of Chateau Fleet Street - to She Who Must Be Obeyed?
The answer is Horace Rumpole whose legal triumphs, plundering sorties into the 'Oxford Book of English Verse' and less-than-salubrious hat are celebrated here in this first omnibus edition which includes 'Rumpole of the Bailey', 'The Trials of Rumpole' and 'Rumpole's Return'.John Mortimer's hilarious Rumpole, which fans of Sherlock Holmes and P.G.
Wodehouse will love, sees the magician of the Old Bailey at his unpredictable and brilliant best.
Sir John Mortimer was a barrister, playwright and novelist.
His fictional trilogy about the inexorable rise of an ambitious Tory MP in the Thatcher years (Paradise Postponed, Titmuss Regained and The Sound of Trumpets) has recently been republished in Penguin Classics, together with Clinging to the Wreckage and his play A Voyage round My Father.
His most famous creation was the barrister Horace Rumpole, who featured in four novels and around eighty short stories.
His books in Penguin include: The Anti-social Behaviour of Horace Rumpole; The Collected Stories of Rumpole; The First Rumpole Omnibus; Rumpole and the Angel of Death; Rumpole and the Penge Bungalow Murders; Rumpole and the Primrose Path; Rumpole and the Reign of Terror; Rumpole and the Younger Generation; Rumpole at Christmas; Rumpole Rests His Case; The Second Rumpole Omnibus; Forever Rumpole; In Other Words; Quite Honestly and Summer's Lease.
Information
Format: Paperback
Pages: 560 pages
Publisher: Penguin Books Ltd
Publication Date: 29/09/1983
ISBN: 9780140067682
Free Home Delivery
on all orders
Pick up orders
from local bookshops
Reviews
Showing 1 - 1 of 1 reviews.
Review by antiquary
23/09/2015
My family used to watch Rumpole TV and my mother and my wife boith liked him, To me, somehow, there was a little sardonic twist to some of the stories I did not always like.The simple fact is, that Rumpole is basically a professional failure and at times can be depressing. I should say, though that I got one of the books (not this one) signed by John Mortimer for my mother in a bookshop off Chancery Lane and he was very affable about it.