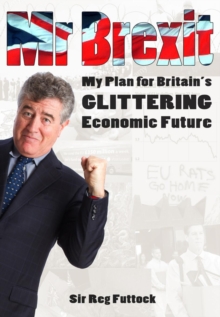 Mr Brexit : My Plan for Britain's Glittering Economic Future
Paperback / softback
Description
For fifty years, Sir Reginald's career has been synonymous with British business: from launching the world-beating Austin Allegro to taking RBS to the pinnacle of international banking.
Now he brings this wealth of experience to helping Britain plan for success in the post-Brexit world.
As chair of the Prime Minister's Brexit Advisory Committee, Sir Reg gives us a glimpse of Government plans for guest workers, floating universities and a US-friendly NHS.
He explains why selling the National Trust to overseas investors will promote British values and how revitalising Britain's mercenary forces will bring in much-needed hard currency.
Part-autobiography, part manifesto for a freer and less equal Britain, Sir Reg unwittingly reveals the delusions and deceits of the Brexit campaign and the doomed and fatuous 'plan' for Britain's economic future.
Mr Brexit is a must-read for all those who want to know what the future holds as Britain stands on the edge of an abyss and steps forward with confidence.
Information
Format:Paperback / softback
Pages:192 pages
Publisher:IndieBooks
Publication Date:23/11/2017
Category:
ISBN:9781908041449