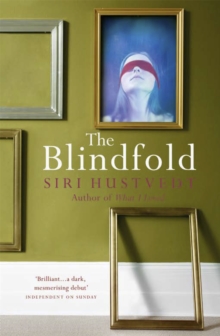 Description
Iris Vegan, a graduate student living alone and impoverished in New York, encounters four strong characters who fascinate and in different ways subordinate her: an inscrutable urban recluse who employs her to record the possessions of a murdered woman; a photographer whose eerie portrait of Iris takes on a life of its own; an old woman in hospital who tries to claim a remnant of the ailing Iris; and a professor she has an affair with.
An exploration of female identity in an age when the old definitions - as some man's daughter/wife/mother - no longer apply, fuelled with eroticism and a sense of menace.
Information
Format: Paperback
Pages: 224 pages, none
Publisher: Hodder & Stoughton General Division
Publication Date: 01/05/1994
ISBN: 9780340581230
Free Home Delivery
on all orders
Pick up orders
from local bookshops
Reviews
Showing 1 - 3 of 3 reviews.
Review by JimElkins
16/06/2015
Hustvedt has become a well-known writer, not least for her autobiographic account of her illness, "The Shaking Woman." She has endorsements from neurobiologically-minded people, including Antonio Damasio and Mark Solms. He may have improved since "The Blindfold," but this is a very poor novel. It's barely altered from her experiences as a grad student: the episodes are hardly knitted together into a novel at all. The opening episode reads as if it's going to structure the novel, but she seems to forget it later on. The same happens throughout; the episodes, usually about 15 pages long, read like sketches done for a weekly MFA writing seminar--that is, they appear to be transcribed experiences with the first frail senses of how they might be fictionalized, how the author might create some distance and sense of writerly purpose. The prose is utilitarian rather than descriptive, the dialogue is only serviceable, and there are all sorts of infelicities in description, temporality, and continuity, of the sort that beginning writers make. (For example, she relies far too much on the device of anticipation: "I didn't realize until later that...") It's poor enough so I won't be reading any of her other work.
Review by petterw
16/06/2015
This was Siri Histvedt's first novel. It is in no way a brilliant book, like most of her more recent novels and collections, but it is readable mostly from a perspective of curiosity about the writer. The Blindfold is more like a series of short stories intervowen with a main character, who must be very closely related to the writer herself. I suspect strong autobiograhical segments here, because there are characters and story lines that make little sense if they didn't derive from lived experiences. Three of the stories have an intriguing premise: the writer who wants help with animating objects left by a dead girl, the power struggle among three long term patients in a hospital; and the female student who tests behaving like a man. Unfortunately, none of the stories are perfect and I am left a bit disappointed in all three of them. If you haven't read Siri Hustvedt before, don't start with the Blindfold. If you have read other books by her, you may also somewhat enjoy The Blindfold.
Review by bodachliath
27/01/2016
An intense, visceral debut novel telling a story of a literature student in New York in search of her identity. The book takes the form of a confessional monologue. The first three chapters are episodic, self contained and only tenuously linked by the narrative voice. The long fourth and final chapter puts them in context and introduces a darker psychological element. The tone throughout is cool, and the characters she meets are enigmatic and often slightly menacing. A gripping book, but a difficult one to sum up.