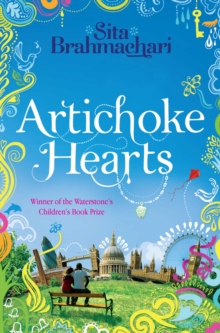 Artichoke Hearts
Paperback
Description
Twelve-year-old Mira comes from a chaotic, artistic and outspoken family where it's not always easy to be heard.
As her beloved Nana Josie's health declines, Mira begins to discover the secrets of those around her, and also starts to keep some of her own.
She is drawn to mysterious Jide, a boy who is clearly hiding a troubled past and has grown hardened layers - like those of an artichoke - around his heart.
As Mira is experiencing grief for the first time, she is also discovering the wondrous and often mystical world around her.
An incredibly insightful, honest novel exploring the delicate balance, and often injustice, of life and death - but at its heart is a celebration of friendship, culture - and life.
Winner of the 2011 Waterstone's Children's Book Prize.
Information
Format: Paperback
Pages: 336 pages
Publisher: Pan Macmillan
Publication Date: 01/01/2011
Category: General
ISBN: 9780330517911
Other Formats
Paperback from £6.39
EPUB from £5.59
Free Home Delivery
on all orders
Pick up orders
from local bookshops
Reviews
Showing 1 - 2 of 2 reviews.
Review by hashford
16/06/2015
Artichoke Hearts by Sita Brahmachari – protective layers around a tender heart Mira Levenson is at the cusp of womanhood. She has started secondary school, and her dreaded periods arrive before her best friend's do; this is a blow, as she had been hoping Millie would get hers first and be able to advise her what to do about them. Mira is at the age where she is just starting to want to have her own private life; this worries her because she feels as if she is keeping secrets from the people closest to her – secrets like the way she feels about Jide Jackson, a boy in her class. On top of all this, Mira's beloved Nana Josie is very ill with cancer, and Mira has to cope with her feelings of imminent loss.I thought this was a lovely book. It is sweet, and funny in places, and addresses a number of issues that would loom large to a 12 year old girl. It has a gentle but candid style and makes for an easy non-demanding read. At its core is the rather endearing concept that when we are young our hearts are tender and as we mature we grow protective layers – rather like an artichoke, which has tough leaves on the outside and tender ones at its heart.On the down side (and hence 4*, not 5*) I did feel it presented a rather "rose-tinted" view of life (they are definitely nice, well-behaved children – polite to their teachers and supportive to each other), and that it was a bit artificial in places (for instance the group of children behave more like intelligent 15 - 16 year olds in their writing class), but overall these points didn't detract too much from my enjoyment of the book.I would recommend this book to girls in the 9-12 age bracket.
Review by MountMich
16/06/2015
Mira is 11, and painfully shy. However she blossoms at a writers group set up at her school, and taught by a published author. Also in the group is Jide, a boy in her class who Mira has a crush on. This is a story which contains a huge number of issues and threads - Mira's first period; keeping secrets from her best friend; bullying; the death of her grandmother from cancer; a multi-racial family, the atrocities in Rwanda. It's a gentle story, and I could see it being read by mature and thoughtful girl readers of 11+.