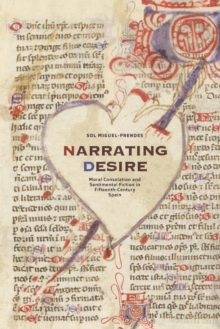 Narrating Desire : Moral Consolation and Sentimental Fiction in Fifteenth-Century Spain
Paperback / softback
Description
Narrating Desire: Moral Consolation and Sentimental Fiction in Fifteenth-Century Spain proposes a new taxonomy and conceptual frame for the controversial Iberian genre of sentimental romance.
It traces its origin to late-medieval education in rhetoric, philosophy, and medicine as the foundation for virtuous living.
In establishing the genre's boundaries and cultural underpinnings, Narrating Desire emphasizes the crucial link between Eastern and Western Iberian sentimental traditions, and offers close readings of a vast array of Catalan and Castilian romances, translations, narratives poems, letters, and doctrinal treatises: the Catalan translations of Boethius's Consolation of Philosophy, Santillana's El sueno, Bernat Metge's Lo somni, Romeu Llull's Lo despropiament d'amor, Pedro Moner's La noche and L'anima d'Oliver, Rodriguez del Padron's Siervo libre de amor, Carros Pardo de la Casta's Regoneixenca, Rois de Corella's Parlament and Tragedia de Caldesa, Pedro de Portugal's Satira, Francesc Alegre's Somni and Raonament, Pere Torroella's correspondence, and the well-known works by Diego de San Pedro (Arnalte y Lucenda; Carcel de Amor) and Juan de Flores (Grisel y Mirabella; Grimalte y Gradissa) among others.
From them, Miguel-Prendes singles out a group of dream visions whose interpretive and compositional practices sire the sentimental genre.
Social interactions lead to either a consolatory or a sentimental form, which imply very different ways of seeing: the allegorical gaze of consolation gives way to narrative fiction.
In distorting moral conversion, the sentimental genre heralds the novel.
Information
Format: Paperback / softback
Pages: 305 pages, 5 halftones
Publisher: The University of North Carolina Press
Publication Date: 30/12/2019
ISBN: 9781469651958
Also by Sol Miguel-Prendes
Also in the North Carolina Studies in the Romance Languages and Literatures series | View all