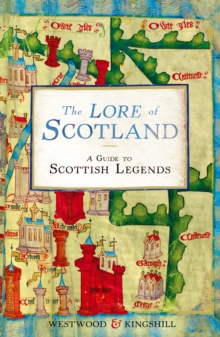 The Lore of Scotland : A guide to Scottish legends
Paperback
Description
Scotland's rich past and varied landscape have inspired an extraordinary array of legends and beliefs, and in "The Lore of Scotland" Jennifer Westwood and Sophia Kingshill bring together many of the finest and most intriguing: stories of heroes and bloody feuds, tales of giants, fairies, and witches, and accounts of local customs and traditions.
Their range extends right across the country, from the Borders with their haunting ballads, via Glasgow, site of St.
Mungo's miracles, to the fateful battlefield of Culloden, and finally to the Shetlands, home of the seal-people.
More than simply retelling these stories, "The Lore of Scotland" explores their origins, showing how and when they arose and investigating what basis - if any - they have in historical fact.
In the process, it uncovers the events that inspired Shakespeare's "Macbeth," probes the claim that Mary King's Close is the most haunted street in Edinburgh, and examines the surprising truth behind the fame of the MacCrimmons, Skye's unsurpassed bagpipers. Moreover, it reveals how generations of Picts, Vikings, Celtic saints and Presbyterian reformers shaped the myriad tales that still circulate, and, from across the country, it gathers together legends of such renowned figures as Sir William Wallace, St Columba, and the great warrior Fingal.
The result is a thrilling journey through Scotland's legendary past and an endlessly fascinating account of the traditions and beliefs that play such an important role in its heritage.
Information
Format: Paperback
Pages: 576 pages
Publisher: Cornerstone
Publication Date: 05/05/2011
Category: Folklore, myths & legends
ISBN: 9780099547167
Free Home Delivery
on all orders
Pick up orders
from local bookshops
Reviews
Showing 1 - 1 of 1 reviews.
Review by Malarchy
16/06/2015
The Lore of Scotland is an encyclopedia of tales from around Scotland organised by place. Lore of Scotland is a 555 page tome filled with small print type, it is incredibly difficult to read from cover to cover. It is broken down into broad regions across Scotland and then alphabetically by location of a tale within each region. There are a dozen or so interludes going into more detail on particular phenomena like Kelpies, Nessie, or Macbeth. A vast range of references are given towards the end of the work but it does seem as though a very small number of sources comprise the vast majority of the information contained in this work.As a compendium of various myths and legends it is a worthy endeavour. Cataloguing the stories into one work could have made this a useful source for future analysis. For the casual reader it is pretty much a chore. There are so many entries, so many different points listed. It is not exactly a page-turner. The format is also off-putting. The decision to catalogue by location rather than by myth type means there is a lot of repetition. A glaring example is repetition of the explanation of the word 'glamour' - not a word those with an interest in myth will need any introduction to. Despite offering explanation of something unnecessary, there is really very little context or commentary in the catalogue element of the work, it is a seemingly endless list of micro stories.There are though some really interesting things that come out of the catalguing. One of these is the extraordinarily damaging impact of Christianity on a host culture once it has embedded itself. The imposition of the devil as the source of malicious supernatural intent is fascinting because it has often seemingly been imposed over the top of existing tales and beliefs, notably belief in faeries. Another interesting element is the drastically different types of tales from the Highlands and the Islands (both west and north) when compared to the rest of Scotland. The distinct types of myth presented here reinforce Scotland being a land of two broad groups of very different people.The analysis of specific phenomena is interesting and is largely more engaging than the main bulk of the work. Some points like Macbeth are not exactly groundbreaking but brief discussion of the role of Picts in legend or a de-constructino of the MacCrimmon piper school myth are real examples of Scottish lore. Categorising by type with a list of places where different variations emerge would have been a much more useful way of constructing the information.The limited sources used for so many of the tales is compounded by an apparent lack of discrimination in inclusion. Several tedious ghost stories told by minor aristocrats who wrote about their own family keep the narrative bogged down. Ghost stories do not equal lore. Lengthy retellings of fireside stories about a haunted castle cannot credibly be described as the Lore of Scotland. On the other hand tales such as the Macleod faerie flag are given a disappointingly cursory glance.Indeed it is the absence of so much of what could really be described as lore which makes Lore of Scotland a disappointment. A lengthy and turgid read could be excused if it was really comprehensive. Where though are the stories hidden in place names or mountain legends? Where are the numerous mythological histories of the clans? Not even a mention of Somerled and the legends that sprung up around him? Pretty much nothing at all about the Earls of Orkney? Nothing about the clearances. Where is the story of Berwick and the Hanseatic League? Does Ogham script really not have any tale of its own to tell? A brief mention of Iberian origin myth is discarded without a second thought as not being worthy of discussion. It is part of Scotland's lore and the genetic data as well as ice age refuge locations make it worth noting. On the positive side there are still plenty of fascinating points to find throughout the text like the locations of different references to Fingal, a very brief interlude into the world of the Reivers, a grizzly story or two including bodysnatching in Edinburgh. There are quite a few points of interest for the persistent to locate.Ultimately the Lore of Scotland does not set out what it aims to achieve. It is not a guide to Scottish legends. It offers no guidance to make it worthy of the description 'guide'. There are enormous gaps in the legends compiled because of the choice of sources and the exclusion of so many others. This is not a book for the faint hearted, it is more of a source for future academic study but unfortunately the listing of too many ghost stories and nowhere near enough of what makes Scotland leads to disappointment at the end of a very long journey through this book.