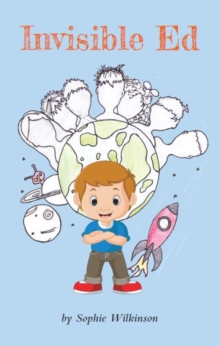 Invisible Ed
Paperback / softback
Description
Invisible Ed is a children's book that addresses child mental health and anxiety that is so apparent in today's world.
Ed is a quiet, conforming boy. Never gets into bother, keeps himself to himself and goes through life pretty much unnoticed by those around him.
It isn't until Ed's best friend, Sam, leaves town that his whole world as he knows it comes crumbling down.
Alone and feeling isolated, Ed's one wish is to become permanently invisible and disappear altogether.
One day, after a run-in with the local bully, Ed discovers that his wish has become a reality... thanks to his shadow. He spends the next few crucial hours of his life going unseen by everyone he knows but in this time, notices just how much he was a part of his family, school community and how even Brad the bully has his own home issues and anxiety that he is dealing with secretly.
Ed learns a true life lesson, that life is precious, and it is what you make of it.
He sees that every person on earth has their own struggles and personal demons, but that running away isn't the answer.
This book aims to tackle the key issues deep rooted in young people's lives in today's society.
Through my work in education and memories of childhood, I have seen first-hand how anxiety and depression in young people can spiral and be such a dangerous thing.
This book gets right to the heart of some children's thoughts and beliefs and shows what life would be like if they were to disappear.
A heart-warming tale that lets all its young readers know that they are special, unique, and no matter how much they don't know it yet, they are important.
Sophie Wilkinson, Author
Information
Format: Paperback / softback
Publisher: JJMoffs Independent Book Publisher
Publication Date: 23/10/2019
Category: Fantasy
ISBN: 9781916504295
Free Home Delivery
on all orders
Pick up orders
from local bookshops