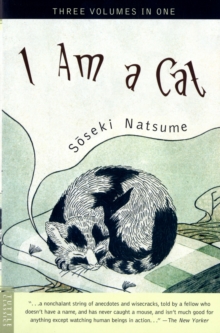 Description
Cat lovers will delight in the thoughts of a cat whose particular joy in life is commenting on the folly of human beings.
Based on a nameless cat's observations of upper-middle-class Japanese society of the Meiji era, the essence of I AM A CAT is its humour and sardonic truths.
Written over the course of 1904-06, this book is full of acerbic wit as it follows the whimsical adventures of a world-weary stray kitten.
Information
Format: Paperback
Pages: 696 pages, illustrations
Publisher: Tuttle Publishing
Publication Date: 01/09/2001
ISBN: 9780804832656
Free Home Delivery
on all orders
Pick up orders
from local bookshops
Reviews
Showing 1 - 5 of 9 reviews.
Previous | Next
Review by DRFP
16/06/2015
An intially difficult book to get into; but once you sync into its zone it's a very fun book. When the Cat talks about his routines and such it's not SO interesting, as the best parts are the long conversations with Sneeze, Waverhouse, Coldmoon, and co.. Well worth taking your time with.
Review by azfad
16/06/2015
Diverting and witty - this book is a kind of Japanese 'Diary of a Nobody', but angrier. Worth reading.
Review by Marensr
16/06/2015
I picked up I AM A CAT while browsing one day and almost put it back because I didn't feel like reading a book of its heft (it's over 600 pages) at that moment. But I read the first few pages and realized I had a gem and finished the book in a couple of weeks. The first person (cat) voice of the narrative is inspired. Soseki Natsume offers an amusing commentary human nature particularly of academics and hypochondriacs. However, he also offers a closely observed and humorous commentary on cat behavior that can come only from living in close proximity to a cat. Moments when the cat describes his shock on seeing his first human with it's horribly bald face, or his attempt to keep his dignity after finding the theft and eating of a sticky rice ball more difficult than he anticipated are priceless for their humor and vivid description. It is true, however, that as the book progresses the cat's stories become increasingly focused on the humans around him.I am not in a position to offer an opinion on the translation, however, this book was my introduction to Soseki and I have since read several of his other works in various translations and find this book to be consistent with the style, tone and humor of that emerges from other translations of his writings. I also found I AM A CAT highly readable. It was originally published serially over many years, and the short vignettes it offers allow one to pick it up and put it down without losing the thread of an overarching story. Additionally, the format of many short stories allows some to be more humorous and other to be more philosophical even poignant and in the best of the stories all three at once. It is a highly imaginative, thoughtful and funny set of stories about human foibles.
Review by antiquary
16/06/2015
Amusing concept, but tends to spend more time on the cat's master and his rather tiresome friends than on the cat itself.
Review by TPauSilver
16/06/2015
This novel focuses around the life of a cat with no name or, more specifically, the goings-on of his master and the group of people he associates with. I am a cat is an interesting and funny look into middle-class Japanese life at the turn of the century. A nice book, though I would recomend taking each chapter individually and reading other things at the same time as it can be a little dry and heavy going at times. The early parts of the books have the added charm of often slipping in little prompts that remind you that your narator is a cat, though towards the end of the book this, understandably, slips away and we get a more straight told narative of the Japanese family in question.Overall, a good read with likable characters, even if it is a little heavy.
Also in the Tuttle classics series | View all