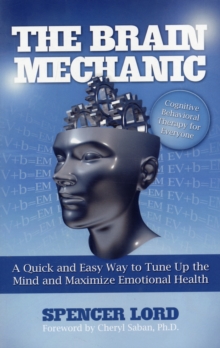 The Brain Mechanic : A Quick and Easy Way to Tune Up the Mind and Maximize Emotional Health
Paperback / softback
Description
Cognitive Behavioral Therapy for Everyone! Cognitive behavioral therapy (CBT) has the incredible power to change the way we think, perceive, and react to stress-for the better. And as an alternative method to mood-enhancing drugs, CBT has only become more popular.
But until recently, access to CBT was only available through professional therapy.
Now with The Brain Mechanic, Spencer Lord delivers a concise, humorous, and easy-to-use handbook that demystifies cognitive behavioral therapy for the lay user.
With simple exercises, clear explanations, and helpful insight, Lord makes it easy for people to fit this technique into their daily lives, improve their mood, broaden their communication skills, and enrich their relationships. * Spencer Lord breaks down the science of cognitive behavioral therapy and turns it into actionable techniques that work immediately, including introducing "emotional algebra" for solving behavior issues in minutes * Provides practical techniques which can simply and effectively combat anxiety, anger, and a number of other emotional problems * Suggests customizable mental exercises for people of every age, background, and pace of lifestyle "Spending one night with The Brain Mechanic can change your life." -Lori Andrews: Legal Chair, Human Genome Project; Ethical Chair, Kent Law "Concise, accessible, and indescribably powerful." -David Geffen: Co-Founder, DreamWorks SKG
Information
Format: Paperback / softback
Pages: 144 pages
Publisher: Health Communications
Publication Date: 03/01/2011
Category: Popular psychology
ISBN: 9780757315565