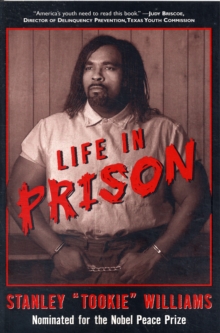 Information
Format: Paperback
Pages: 80 pages, illustrations
Publisher: North-South Books (Nord-Sud Verlag AG)
Publication Date: 01/02/2001
Category: History
ISBN: 9781587170942
Free Home Delivery
on all orders
Pick up orders
from local bookshops
Reviews
Showing 1 - 3 of 3 reviews.
Review by middlemedia2
16/06/2015
Very good book from Tookie Williams. He describes how the gangs were started and how he was punished for it. Not that I feel sorry for him being executed but it was interesting to see his side of the story. I am glad that he did feel remorse for what he did. I have suggested this book to several of the 7-8 graders I worked with.
Review by HHS-Students
16/06/2015
Reviewed by: Marisha (Class of 2013)"Spending day after day in prison can cause strange things to happen to a person's sanity. It's easy to lose touch with reality." This means that people who go into prison are likely to become stir-crazy because they get the fear of being locked in close spaces for a long period of time. They get a strange fear! People have to lose their freedom when entering a prison. There are a lot of things that people lose just for getting arrested and being taken to prison. For example, people lose their rights, they could lose their virginity if they're a virgin, and most of all people lose their minds. Most people don't know how to handle being in prison for a while. But some people don't go crazy and they just get claustrophobic and lost self control. After several years of being in prison, Stanley felt claustrophobic. And at times he thought that he was about to go crazy. His feelings of claustrophobia would last for about a minute or two at a time.I think that the book is an excellent book to read. "TOOKIE" tells his story about being in prison and tries to encourage little kids to not go to prison and that prison isn't the place to be in life. That is unless you're a worker at the prison, but still prison isn't the place to be nor to work at because if a fight breaks out, one of the guards can get hurt and that could be you if you're a guard at the prison.This book tells anyone a lot about being inside of a jail felicity. It also tells you about how being in prison isn't fun and also how they have a lot of rules to follow and how they are expected to do all the rules and not to break any of their violation rules. This book is not a joke and it could change a lot of lives.In conclusion, I think that this book tells a person how they wouldn't want to be in prison and the tricks of being in prison if a person does go. This book is a true book and I really think that this book could make a lot of people change their minds about going to prison. It's true about a man named STANLEY "TOOKIE" WILLIAMS and about how "Life in Prison" is not a place anyone should be or wants to be.
Review by Melkor81205
16/06/2015
A quick read, intended for young adults. I landed up with this book as a result of a trade, I did not realize it was intended for kids(the adult version biography he wrote is called "BLUE RAGE,BLACK REDEMPTION". So I landed up with it and I figured I should check it out anyway, having been nominated for a Nobel.I think this is a great book to get to kids in that 9-11 year old demographic so the lessons Mr. Williams is trying to teach them are already there, before they get to that 12 and over age where they start the independent streak.Tookie Williams let's you know in the most PG terms possible no matter how cool, tough or bad you think you are, prison is not somewhere you want to land up. There is nothing glamorous about it.As most people have stated it is hard to feel bad for a guy who got so dusted he killed 2 people and couldn't even recall it.However it is commendable that Tookie Williams spent so much time trying to keep kids off the wrong path.I will hang on to this one for when my little guy is old enough.