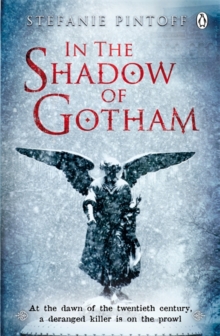 In the Shadow of Gotham
Paperback
Description
At the dawn of the twentieth century, a deranged killer is on the prowl.New York, 1905.After losing his fiancee in the General Slocum ferry disaster, Detective Simon Ziele transferred to a country town north of Manhattan in the hope of escaping his grief.
But only months later he's faced with the shocking murder of a young girl - battered to death in her bedroom on a cold winter's afternoon. And when Alistair Sinclair, one of Columbia University's most noted criminologists learns about the case, he realises it bears an uncanny resemblance to the deranged mutterings of one his research subjects.
Ziele must work with Sinclair to determine whether his patient - with a terrifying history of violent behaviour and brutal fantasies - did indeed seek out this innocent young victim ... before the vicious murderer strikes again.In the Shadow of Gotham tells the atmospheric and gripping tale of a haunted man who must search for a killer, while on the run from his own demons ...
Information
Format: Paperback
Pages: 448 pages
Publisher: Penguin Books Ltd
Publication Date: 01/11/2010
Category: Thriller / suspense
ISBN: 9780141399706
Free Home Delivery
on all orders
Pick up orders
from local bookshops
Reviews
Showing 1 - 3 of 3 reviews.
Review by huntersun9
16/06/2015
This was just okay. Not a bad story line, but very simply written, with no great depth or character development. I looked forward to becoming immersed in the Victorian era, but aside from an occasional reference to a push-cart or other prop, the story could have taken place in any time period (did people really use the telephone that much in 1905?) It certainly didn't have a turn-of- the-century New York feel to it either. I'm annoyed that this was compared to Caleb Carr's excellent writing.
Review by jonesli
16/06/2015
I found this book to be just an ok read. I guess I expected a little more "wow" factor, since it won an Edgar award last year for best first novel.Simon Ziele lost his fiancee in the 1904 General Slocum ferry disaster, and fleeing from his painful memories, relocates from NYC to Dobson New York. While solving the case of a young woman murdered in her bedroom, Simon consults with a Columbia University criminologist, Alistair Sinclair. It appears as though Alistair's patient, Michael Fromley is the murderer. But is he, or is it someone else?There were a few things that annoyed me about this book: First, there seemed to be many references to the "telephone" for the story to take place in 1905. Also, I felt as though I never got a real feel for turn of the century New York. Lastly, I was waiting for a twist, a turn, a suprise, but alas, nothing. It's kind of like when you devote a couple of hours to a movie or a tv show thinking that there is going to be this great ending, and nothing happens.
Review by druidgirl
16/06/2015
This being a debut novel, it was unbelievable. How wonderful and attention holding it was. I loved Simon the lead detective, Alastair and Isabella his daughter in law. I have become quite a fan of Victorian historical mysteries.Ms. Pintoff did her research well, when she could use actual facts she did and when she had to add to the actual facts she did a wonderful job. I am currently reading the Secret of the White Rose and only just beginning it I know it will be another good one.
Also by Stefanie Pintoff