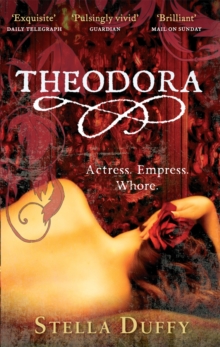 Theodora : Actress, Empress, Whore
Paperback
Description
Justinian took a wife: and the manner she was born and bred, and wedded to this man, tore up the Roman Empire by the very roots' ProcopiusCharming, charismatic, heroic - Theodora of Constantinople rose from nothing to become the most powerful woman in the history of Byzantine Rome.
In Stella Duffy's breathtaking new novel, she comes to life again - a fascinating, controversial and seductive woman.
Some called her a saint. Others were not so kind... When her father is killed, the young Theodora is forced into near slavery to survive.
But just as she learns to control her body as a dancer, and for the men who can afford her, so she is determined to shape a very different fate for herself.
From the vibrant streets and erotic stage shows of sixth century Constantinople to the holy desert retreats of Alexandria, Theodora is an extraordinary imaginative achievement from one of our finest writers.
Information
Format: Paperback
Pages: 352 pages
Publisher: Little, Brown Book Group
Publication Date: 01/06/2011
ISBN: 9781844082117
Free Home Delivery
on all orders
Pick up orders
from local bookshops
Reviews
Showing 1 - 3 of 3 reviews.
Review by Yarrow
16/06/2015
Theodora was a 7th century Byzantine empress who began life as an actress and prostitute, and Stella Duffy has woven a story around what we know of her life. There's always a danger with this type of book that it contains far too much historical exposition and not enough plot, but in this case I'd say the balance is spot on. The descriptions of Byzantium are vivid and engrossing, but the characters are really well drawn too. In particular, you're always rooting for Theodora, even if you don't like her sometimes. I really loved this book, and raced through it, wanting to see how the ending would resolve, and I wasn't disappointed. In fact, the only thing I didn't like was the tagline: 'Actress, Empress, Whore'. It sounds a bit silly to me, like it's trying to shock you, whereas I felt the point of the novel was that Theordora was never ashamed of who she was, but I suppose it's designed to intrigue someone enough so that they'd pick it up in a shop. The book has inspired me to read more about this setting and time period, which is under-represented in fiction, and which I found fascinating, and more about Theodora herself, who was very much ahead of her time.
Review by elkiedee
16/06/2015
Theodora had to earn a living on the stage since she was five, after her father was killed by his own bear. In her teens she also becomes a prostitute. Yet she ended up as Empress. Not surprisingly, she remains one of the more controversial and colourful figures of the Roman Empire.In Theodora: Empress, Actress, Whore, Stella Duffy takes some of what is known about Theodora of 6th century Constantinople and turns it into a lively, rollicking historical novel. Theodora is an intelligent young woman who learns and takes on several different roles successfully. This is Duffy's 12th novel but her first foray into historical fiction.The story is told as a third person narrative, but it is often so vivid I think I must have been reading Theodora herself telling me it in the first person. Duffy also uses a lot of dialogue, often shown in quotation marks but without using "she said" or "he said" – this technique of writing bits like scenes from a play seems very appropriate for a story about a performer and actress and gives the story more immediacy. At the same time, using the third person, Duffy can report her heroine's feelings and emotions in a way which would seem unrealistic in the first person. The dialogue includes quite a lot of swear words – they are not there to shock, but seem appropriate to the way in which the writer imagines her characters speaking and to the discussions they are having.I was shocked by some scenes, particularly at the beginning where 11 year old Theodora is being brutally trained for theatre work – her teacher sounds like a thug and a bully yet she loves him (not in a sexual way) and continues to remember him with affection.The author's forthright opinions on women's rights, sexuality and everything else are apparent here. I really enjoyed this, although others may object to the imagining of this real historical woman as a feminist icon. Various scenes show how the system is set up to oppress women and how Theodora resists this.Despite the novel's provocative title, Theodora's days as a performer and sex worker are mostly over at the start of the story in this book, and it is not another prostitute's memoir turned into a novel and given a historical setting for flavour. There are quite a few sex scenes - sometimes the sex is recreational or romantic, sometimes it is for other purposes.Between her life as a child actress and prostitute (or courtesan) and becoming Empress, Theodora travelled to Africa as the mistress of a man who had been sent there as governor. After this relationship ends messily, she had a series of adventures including religious conversion and a friendship/relationship with another woman before returning to Constantinople. I particularly enjoyed the part of the story involving a woman called Macedonia. The religious part of the story is interesting and important, as it was part of what happened next, but I am not sure I fully understood it. There is more to come before the end of the novel as there is the extraordinary story of how a woman from a lowly social class and of a questionable background became Empress.I found the story of Stella Duffy's Theodora compelling and entertaining and I would love to spend more time with her if there is a sequel.
Review by msjessie
16/06/2015
Theodora was one of the most influential women of her time. As a poverty-stricken dancer, as the most celebrated actress/whore in Constantinople, as a penitent nun in a commune in the desert, and as the wife of the most powerful man in Christendom, she commands attention and vast amounts of interest. Defying social strictures and traditions of her day, Theodora rose from a common birth and life to the most exalted position available: Augusta of "New Rome" also known as Constantinople, the "sparkling gem in a Christian crown" in in 527 AD. Stella Duffy writes an easy-to-read and well-crafted and rounded tale of the infamous woman in one of the most interesting periods of the Roman Empire.Born the second daughter of three to Acacius and an unknown woman, named Hypatia for this novel, Theodora was born into showbusiness as it was then. Her father was the bear trainer at the infamuous Hippodrome of Constantinople. It is the Hippodrome that is the most important place in Theodora's life: her earliest memories, the death of her father at the hands of his beloved bear, and eventually the site of the greatest triumph of her life: her coronation. Duffy writes Theodora as a determined, intelligent and capable young woman. Not the best singer, not the best dancer or even the prettiest girl, Theodora commands attention and awe from her presence, her wit, her spirit and her sheer ambition. Though the novel begins at age eleven for the protagonist, it is never immature or boring: I was captivated from the start.With a singer for an older sister (Comito) and a beautiful younger sister (Anastasia), Theo turns to her true talent: comedy. With it she makes a name, a fortune and a life she always believed was beyond her. I liked Theodora a lot: I actually wished this was a first-person novel rather than third, though I did get to see and enjoy insight into Justinian as well. She was the only female character I enjoyed, the rest seeming rather hard-bitten and begrudging of Theodora's success, even her sisters. I enjoyed - and believed - the growth and maturity Theodora grows into, especially on her travels from Constantinople. She learns humility, grief and even experiences for the first time a sense of equality while in the desert. For the first time, regardless of her sex or past professions or infamy, Theodora was what she has always sought to be: an equal. It's also terribly interesting to read about a indomitable woman who experiences such a wide range of life: from a whore to a penitent nun in an ascetic community, Theodora remains herself and full of fire. From failed love affairs, to child abandonment issues, Duffy presents Theodora as a complex woman. There is no easy answer to the hows and whys of what Theodora did historically, but the reasons Duffy fabricates/infers are more than adequate and totally believable for her version of the Empress.Let's talk about Justinian, the Emperor. Presented as a bookish, scholarly but kind man, I initially didn't invest in the relationship between the two. Born Flavius Petrus Sabbatius, he was not from Constantinople, an ambitious "foreigner" with a thirst for power "born of a desire for change." A man of strategy rather than force, Justinian quietly emerged as a strong and very likeable character. While their marriage is portrayed initially as more of an alliance to harbor amity between both sides of the religious debate (they were on openly opposing sides of the heated religious debate), it grew into a nice, steady affection and love. The two characters brought out the best in each other: I liked their dynamic and relationship more and more as the novel progressed through their lives together. There is a nice dichotomy between the eventual August and his Augusta as well: Theo is of the City, poor and therefore "one of the people." Justinian represents the other classes of the varied, multi-national Empire: foreigner of the City, rich and royal. Justinian helps Theodora evolve from anti-government to actually being the government, an interesting and hardly believable tale based on fact.This is a fairly easy read for a historical novel. I found the prose to be a bit stuffy and overloaded from time to time, the dialogue occasionally stilted and unrealistic, but neither issue overwhelmed my enjoyment of the rest of the book. Constantinople itself was one of my favorite parts of the entire thing: it springs to life as much as Theodora and considerably more than the rest of the characters. It is a vibrant city, teeming with life. Contradictorily the Christian capital of the world but still fighting an internal battle over divinity of the Christ, Constantinople is in a constant flux of religious dogma, a microcosm of the entire empire. With the Western side extolling the belief in Christ's humanity AND divinity and the Eastern parts of the Empire contesting He is wholly divine, a schism seems imminent. Between the religious debates and the constant political turmoil and maneuvering of the Blues and the Green, it's easy to see the cracks in the foundation. Duffy does a more than admirable job of explaining the different opinions/beliefs and the reasons for the tensions in the novel without a massive infodump. I will say I didn't like the jumps in the chronology at all: the barely glossed over times ("in those two years....." "For the next three....") because I was interested in a lot of the events/times skipped over.Love her, hate her, despise her for her less savory acts but you cannot deny Theodora had an impact. On the world, on her Empire, and on religion. An influential woman who refused to stay in her place and do what she was told, I think many historical fiction fans will have fun with this easy-to-read, easily enjoyable novel. Her life began and ended at the famed Hippodrome, but Theodora's legacy and memory still reaches out over 1500 years after she died at the age of approximately 48.