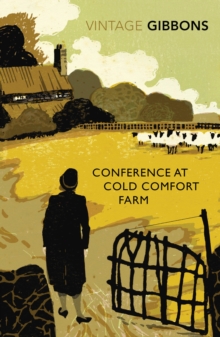 Conference at Cold Comfort Farm
Paperback
Description
Robert Poste's child is back at Cold Comfort Farm. But all is not well. Flora finds the farm transformed into a twee haven filled with Toby jugs and peasant pottery, and rooms labelled 'Quiete Retreate' and 'Greate laundrie'.
It is, Flora winces, 'exactly like being locked in the Victoria and Albert Museum after closing time'.
Worse, the farm is hosting a conference of the pretentious International Thinkers Group - a group made up of the 'sadistic owl' Mr Peccavi, loathsome Mr Mybug and the overpowering Mrs Ernestine Thump. And worst of all, there are no Starkadders at Cold Comfort Farm.
All the he-cousins have gone abroad to make their fortunes and the female cousins are having a pretty thin time of it.
Once again the sensible Flora decides to take the situation in hand.
Information
Format: Paperback
Pages: 176 pages
Publisher: Vintage Publishing
Publication Date: 04/08/2011
ISBN: 9780099528685
Free Home Delivery
on all orders
Pick up orders
from local bookshops
Reviews
Showing 1 - 1 of 1 reviews.
Review by edwinbcn
16/06/2015
Conference at Cold Comfort Farm (1949) by Stella Gibbons is but a vague shadow of her vastly popular Cold Comfort Farm, published in 1932 (My review in December).Cold Comfort Farm is a wonderful parody on the backwardness of rural life, centred on the hilariously funny and idiosyncratic characters of the members of family of the Starkadders, and Flora Poste revolutionising their lives.Its sequel, Conference at Cold Comfort Farm is an utter failure to captivate the spirit of the original novel. As ominously forewarned in Cold Comfort Farm, the farm would not be the same without the Starkadders. But to get on in the world, making some of the principal characters leave the old place is Flora's main achievement. By the time of Conference at Cold Comfort Farm most of them have not returned. Amos Starkadder is still in America where he has founded a church, The Church of The Quivering Brethren. In fact, virtually all Starkadders have moved away and done the farm over to the National Trust. They have revamped Cold Comfort Farm into a conference centre, converting the meadows to trimmed lawns, restricting 'sukebind' to a pot plant, and dividing the rooms of the farm into meeting and conference rooms with prosaic names such as "Ye Olde Pantry" and "The Lytel Store Roome". To sum up, Cold Comfort Farm isn't what it used to be.Supposedly, Flora Poste sets out to set things straight, just as she did in the first novel. But none of that really happens. First of all, the novel struggles to re-introduce the many characters from the old novel, readers may remember there were a great many. In in Conference at Cold Comfort Farm most of them are remembered, but they make no appearance the story. Then, the novel introduces a great number of new characters and organizations, but far less successfully than in the original novel. In Cold Comfort Farm readers knew each type the original characters represented, and the humour was largely based in familiarity, but in Conference at Cold Comfort Farm the new characters are introduced, but they remain vague, as it is not immediately clear who or what they stand for. Even though in some ways the set of characters in Conference at Cold Comfort Farm is closer to our contemporary lifestyle, the author does not take the trouble to characterize the managers, or sketch out the other characters, such as the Sage, a character we might think of as a sufi or guru in but a few lines. For most characters it is too difficult to guess who they stand for.Moreover, Flora's (mimicking her newly acquired accent also referred to as "Flawra") mission is not at all clear. Restoring Cold Comform Farm would mean attempting to bring the Starkadders back, but as it was Flora's achievement to make them leave, this mission does not seem a viable option. In fact, it is never attempted, and the novel soon stands in descriptions of old and new characters, while any imagined mission soon disappears to the background or id forgotten altogether.The 2002 edition by Vintage of Conference at Cold Comfort Farm was published with a short introduction by Libby Purves, but this introduction is rather useless. It looks as Ms Purves made no serious attempt to explain the background of the novel, and her suggestions regarding the possible background of characters seems haphazard and without foundation and far-fetched.